Wednesday, 06 November 2019 07:21
Francesca and the first weeks of her training in a kindergarten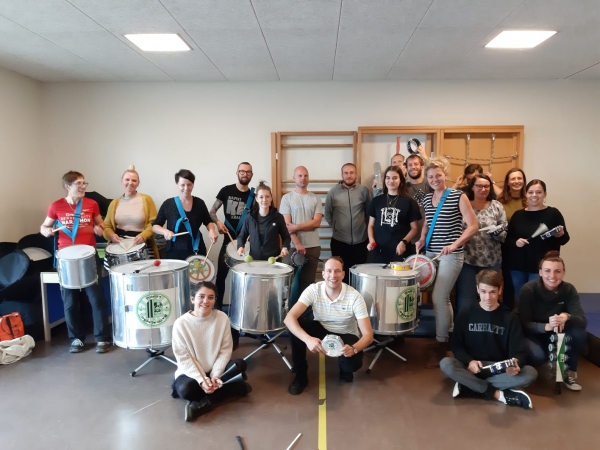 The place where I do my internship for six months is a kindergarten, a two-flat building that accommodates the smallest ones on the ground floor, while upstairs children from 3 to 6 years old. I am in the "Krippe", that means with children from 0 to 3 years.
Collaborators and colleagues welcomed me with availability and kindness from day one, committing themselves to speak slowly so that I can understand their every speech and they involve me in all the activities. On the other hand, the smiles and affection of children who are increasing day by day are a wonderful demonstration of the path I am facing. Between a walk in the woods and a sand castle, between a meal and a nap, we can say that three weeks have already passed .. and to celebrate, nothing better than to participate in the "pädagogischer Tag"!
What's this? I like to describe it as a day when adults become children again, and thanks to which friendships are strengthened. It is a day in which the kindergarten remains open only for collaborators, who dedicate themselves to a certain activity, chosen by the manager. This year we played the samba! We were about twenty people, each with an instrument. Coordinated by an external tutor, we tried to create harmony and listen to each other. For a day, responsibilities, a thousand worries and the fear of being judged were put aside, leaving room for creativity and a smile.
It was fun but above all interesting, I could understand one of the reasons why that environment immediately appeared welcoming and almost familiar; in fact, all the people who work within this structure, from the cooks to the manager, are first friends and then colleagues.
Yes, these three weeks have passed, or rather they have flown, and it's not bad at all!
Young, motivated and eager to find out what there is in Europe for them. Ilaria, Thomas, Valentin and Elisa have been selected for #ErasmusPro, the new Erasmus designed to promote "long-term" vocational training experiences. Thanks to the APRO Formazione project "WAVES - Sail towards your future", Ilaria, Thomas, Valentin and Elisa are doing their #ErasmusPro in Malta for 6 months, from October 2019 to the beginning of April 2020. Each week, in turn, they will send us their impressions.