Wednesday, 23 January 2019 11:18
MY ERASMUS PRO EXPERIENCE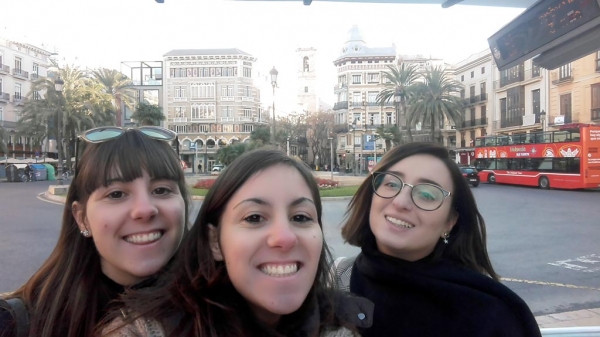 #ErasmusPro is the new type of Erasmus designed to promote long-lasting professional training experiences. Thanks to the project "WAVES - Sail towards your future" of APRO Formazione, Francesca, Carmen and Ludovica are experiencing their #ErasmusPro in Valencia for 6 months, from January to July 2019. Each week, in turn, they will tell us how they are living this experience.
¡Hola! My name is Francesca, I am 19 years old and I come from a village in the province of Asti, in Piedmont. Right now I am in Valencia (Spain) because I was lucky enough to be selected to participate in the 6-month Erasmus + Waves project.
This is my first time of some things: it's the first time I take the plane, it's the first trip without my parents (school trips excluded), it's my first time abroad and it's the first time I'm going to be so long away from home.
When in November I discovered that I would have to leave on January 12, 2019, I was scared because I had some fears, ranging from practical things, like using the washing machine or failing to understand / make myself understood, to the more "abstract" ones, like not being able to complete this experience for homesickness.
The days passed and the day of departure arrived. As soon as landed, the Spanish landscape reminded me of the typical landscape of southern Italy where part of my family is from. The thing that struck me immediately was the fact that the airport signs and car plates were only in Spanish.
The first linguistic difficulties occurred when, once I entered the apartment, I met those who would have become my roommates: I realized that to communicate, I would have had to transform my spontaneous habit of speaking in Italian in the habit of communicating in Spanish. Luckily, from this point of view I did not have much difficulty, because I have studied this language for 5 years in high school.
On January 13, 2019, our first Sunday in Valencia, I began to "gain confidence" with the city together with the other two girls with whom I share this experience. So, armed only with a paper map, we visited the city center and in particular Plaza de Ayuntamiento, that is Valencia Town Hall Square, Plaza de la Reina, the Cathedral and some small churches.
In general, the first impressions that this city gave me were all absolutely positive, even if I found differences compared to my city of origin: the first is that walking through the streets you can see tangerine trees instead of flowers as in my city. I later discovered that this fruit is the emblem of the city. The second difference I found out was about meal times. In Spain we have lunch and dinner much later than in Italy, this is because Spanish people prefer to use all hours of the day to live more the city, rather than stay at home from 7.30 pm until the next day.
I am very happy that my first impressions were positive, because this means that I started in the right way the experience in order to make the most out of this opportunity, both for personal growth and for my future. Who knows maybe I find out that it is the city of my dreams where to live, work and build a family in the future :)
I will write you again soon!
Francesca