Wednesday, 17 October 2018 06:08
In Alba the first exchange between Italy and France in the context of the project Alcotra IMPACT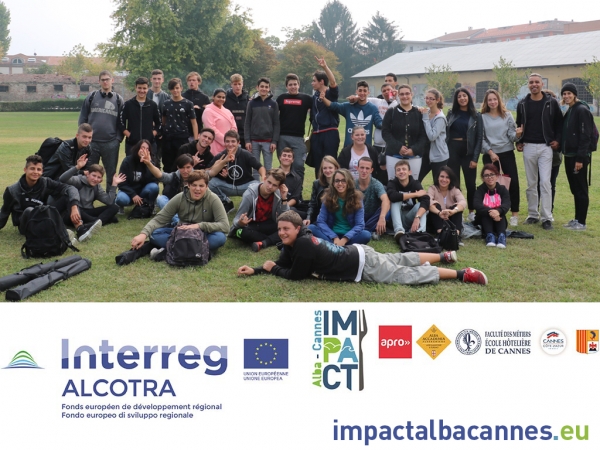 The IMPACT project of APRO Formazione, funded by the Interreg Alcotra program, starts with an exchange in Alba. Alba Accademia Alberghiera hosted from October 8th to 10th the students of the Faculté des Métiers École Hôtelière in Cannes, the French hotel partner school.
The exchange was an opportunity for the 40 students of Alba and Cannes involved in the project to get to know each other, thanks to team building activities, cooking lessons and visits to the territory.
Above all the team building activities - coordinated by the staff of APRO Formazione - allowed the teachers to start identifying possible binational working groups for the events that await the students starting from this school year. In fact, French students will return to Alba for the didactic dinner at Alba Accademia Alberghiera in January and for "Vinum" festival, while the students of APRO Formazione will be in France for the renowned "Les Etoiles de Mougins" festival and for a second didactic dinner in Cannes . The two classes will also be involved in two competitions held in collaboration with the Bocuse d'Or Italy Academy and the "Les toques blanches" International Club.
Participation in competitions and events is one of the main features of the IMPACT project, together with the important use of digital teaching methods (streaming lessons, distance training courses, video pills, webinars, etc.) and internships in restaurants in Alba and Cannes.
At the end of this new and innovative bi-national training path in the hotel sector, the students will be adequately prepared to work on both side of the Alps.
More information on the project is available on official websites and on social networks:
IMPACT project: https://impactalbacannes.eu/
Alba Accademia Alberghiera: http://www.albaaccademia.it
Brochure: http://bit.ly/ALCOTRAdepliant
Hashtag to follow the entire project: #Impact_AlbaCannes
ALCOTRA program page: http://bit.ly/ALCOTRAsite
Facebook: @albaaccademia @facultedesmetiersdecannes
Instagram: @aproformazione - Twitter: @Apro_Formazione