Saturday, 30 June 2018 12:26
PRESENTED IN CANNES THE PROJECT ALCOTRA IMPACT OF APRO FORMATION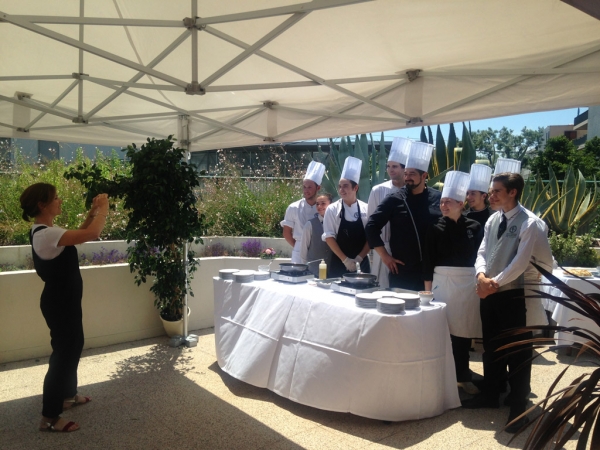 A frontier that becomes an opportunity for exchange. This message was resounded several times in Cannes on Friday 29 June at the launch of the IMPACT project by APRO Formazione and the Faculté Des Métiers École Hôtelière De Cannes.
The project, which is funded by the Alcotra program and which will involve the students and the apprentices of the two hotel institutes respectively, aims to train chefs who can easily find employment in the two territories. This will be possible thanks to an innovative training focused on Cuisine, Territory and Digital. Translated into numbers, IMPACT provides 80 students, 20 teachers, 50 companies and local actors involved, 200 hours of streaming lessons, 60 hours of local storytelling, 50 videos about the Alba and Cannes territories, 160 hours of internships abroad, 70% of students employed at the end of the journey.
After the institutional greetings by Giovanni Bosticco, President of APRO Formazione, and Josiane Attuel, representing the municipality of Cannes, the event focused in the morning on the presentation of the project, thanks to the speeches by Nicola Alimenti, project manager of APRO Formazione, and Dominique Pons, director of the hotel school in Cannes. These were followed by the speeches by Mauro Carbone, director of the Alba Bra Langhe Roero Tourist Board, and Stefano Mosca, representing the National Truffle Studies Center.
Mauro Carbone, in particular, underlined the fundamental importance of training also in storytelling. At the end of IMPACT it will be important to have formed not only highly prepared cooks, but also professionals able to better tell their territory.
In the afternoon, the thematic seminar dedicated to the characteristics of the two territories took place. The apprentices and restaurateurs were able to better discover the Bra and Raschera cheeses, Cuneo's raw ham, Piedmont hazelnuts and sprouts, thanks to the interventions by Anna Maria Sepertino (Bra and Raschera Consortium), Giovanni Testa (Consorzio del Crudo di Cuneo), Flavio Borgna (Consorzio Tutela Nocciola Piemonte) and Daniel Basles (farmer).
The day ended with the testimonies of Marc Lanteri, starred chef at the Al Castello restaurant in Grinzane Cavour, and Paolo Pavarino, chef at the Italia di Ceva restaurant, on the use of typical products in their kitchen.
The next appointment with the IMPACT project is scheduled for September, when the streaming classes will start between the two schools.
More information on the project is available on official websites and on social networks:
IMPACT project: https://impactalbacannes.eu/
Alba Accademia Alberghiera: http://www.albaaccademia.it
Brochure: http://bit.ly/ALCOTRAdepliant
Hashtag to follow the entire project: #Impact_AlbaCannes
ALCOTRA program page: http://bit.ly/ALCOTRAsite
Facebook: @albaaccademia @facultedesmetiersdecannes
Instagram: @aproformazione - Twitter: @Apro_Formazione