Wednesday, 14 April 2021 08:29
Apro International reopens to mobility: 1-month internship abroad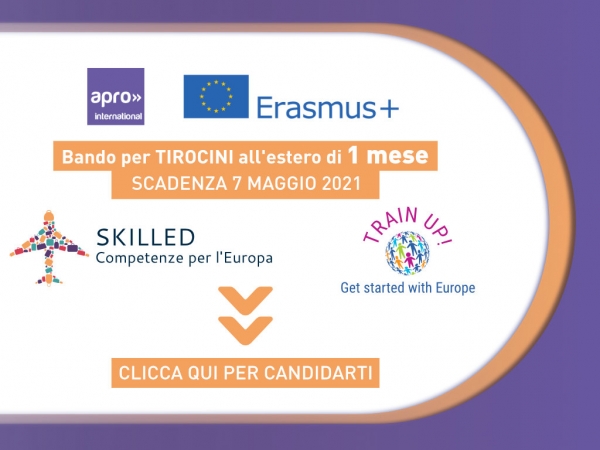 The call for mobility has been opened in the last few hours and will give 90 students the opportunity to take part in a one-month internship in Europe, thanks to the projects Skilled - Skills for Europe and Train Up - Get started with Europe, coordinated by Apro Formazione and co-funded by the Erasmus+ programme.
The call, aimed at students over 16 years of age enrolled in vocational education and training courses or in technical institutes of our territory, will allow them to participate in an internship experience in the following sectors: industry, handicrafts (aesthetics, hairdressing, white art), tourism-hotel, social-health, agriculture, water management and environmental remediation, and for technical institutes for surveyors. During the period of the mobility project - from July to September 2021 - the young people involved in the project will have the opportunity to take part in a professional internship, recognised as part of their training, in a European city. The host countries - which will also be selected on the basis of the evolution of the Covid-19 situation - are Spain (Valencia, Barcelona), France (Cannes, Salon de Provence), Croatia (Cakovec), Poland (Wroklaw), Germany (Berlin, Bremen, Bochum), Greece (Rethymno), Malta (Sliema, Valletta), Cyprus (Limassol).
The mobilities co-funded by the Erasmus+ programme are designed to give everyone the opportunity to have a study and training experience abroad. The highly inclusive character is realized, in particular, in the total coverage of the costs of board and lodging of students throughout the period and in a percentage (5%) of grants reserved for students with disabilities.
The mobility experience is a concrete opportunity for personal and professional growth that does not stop with the activities carried out during the placement. Even before departure, the student will be involved in a series of activities such as English language courses (or of the country of destination) on the OLS online platform, intercultural preparation activities, a training module on entrepreneurship and social media, and pre-departure orientation activities; during the stay, guided by the trainers, the young people will take part in cultural and professional visits and will continue the language training, while at the return they will be issued with some documents for the certification of competences, such as the Europass curriculum vitae, the Europass Mobility certification, the ECVET skills evaluation grid and any letters of reference and/or certificates issued by the foreign companies.
For those who are interested in packing their bags and leaving for a life experience abroad, the call, the application and the annexes are available at this address. Applications must be submitted by 07 May 2021.