Friday, 11 May 2018 10:39
Europe Day 2018: the second one is also good!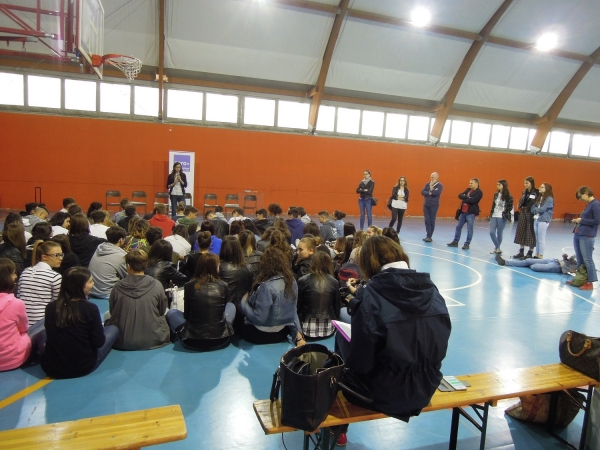 To start to discover new cultures, but also to learn more about themselves: this was the invitation that was heard several times yesterday in the clubs of the Albanova Club, which hosted the Festival of Europe, given the bad weather forecast.
The event was organized by APRO International, the APRO Training sector dedicated to European projects, with the collaboration of the Youth Policy Department of the Alba Municipality and with the support of the Europe Direct Center Cuneo, which provided a lot of material on the European Union to be left to the schools involved in the day. In addition to APRO Formazione, the students of the IISS "Luigi Einaudi", "Piera Cillario Ferrero" and "Umberto I" (headquarters of Grinzane Cavour) were involved in the initiative.
Three moments in which the morning was articulated. After a brief presentation of the bodies and associations involved in organizing the event (APRO International, Intercultura, EURES Cuneo and Alba Informagiovani), the students were divided into groups to participate in educational activities and games designed to reflect them on cultural and cultural diversity, to familiarize them with the main existing opportunities for volunteering, study and work abroad. After the five planned activities, the time has come for the European Opportunity Fair, a set of stands at which the students were able to find information materials and ask questions about the Erasmus+ world (Youth Exchanges, Training, Erasmus Pro, European Voluntary Service, European Solidarity Corp, Erasmus scholarships for university students), on Intercultural exchanges, on the services offered by EURES branches and on other types of activities (woofing, temporary work in Australia, ESF work placements, seasonal work, Interrail, au pair work, Volunteering camps, fourth higher abroad, MoviMenti activity of the CRC Foundation, work in amusement parks in Europe).
The day ended with the buffet prepared by the students of the APRO Formazione Cook Academy, with some music and Pitta-Europa, or the possibility for the participants to have their nails decorated with the colors of the European flags, thanks to the presence of the students of APRO Beauty & Wellness.
"The enthusiasm and curiosity of the young people present confirm once again the goodness of the initiative and the format proposed - comments Nicola Alimenti, head of the APRO International sector - Start to inform the young people about the many opportunities available to them today or in a very close future is essential so that they can take full advantage of it and become more and more European citizens and of the world."