Tuesday, 05 December 2017 07:11
APRO FORMAZIONE AND COOPERATIVE ERICA PARTNERS OF A EUROPEAN PROJECT ABOUT EDUCATION FOR CLIMATE CHANGE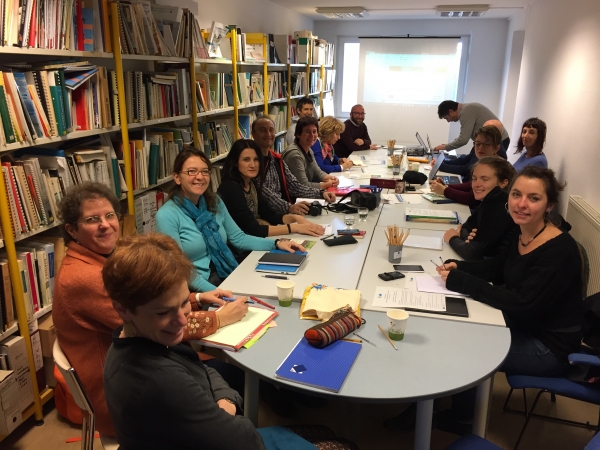 Alba, 14 December 2017 - Two companies from Alba, Apro Formazione and Cooperativa ERICA, represent Italy as part of the Erasmus + "Click for Schools" European project, focused on climate change education, whose kick-off meeting was held week in France, at L'Isle-sur-la-Sorgue (Vaucluse).
Four States involved, all from the Euro-Mediterranean basin: in addition to Italy, just France (represented by the Union Apare-CME, leader of the project), Croatia (with the association Udruga Brač) and Greece (through the Mediterranean Center of Environment of Athens). Furthermore, for each country, partnerships were established with local schools and training centers.
"Click for Schools", in fact, aims to create pedagogical kits on the theme of climate change by exploiting digital technologies and directly involving teachers and students in the process of analysis, creation and testing of innovative tools.
In fact, the main objective of the project is to provide teachers of secondary schools, lower and upper levels, with a wide range of online resources to better understand climate change, deepening problems and phenomena related to them. In parallel, it aims at direct involvement of pupils, giving them both an international perspective and action tools at local level, to understand the interactions existing between their actions within the school, the territory in which they live and the scenarios at the continental level.
Among the expected results - at the end of the three-year period 2018-2020- is the creation of an online, multilingual and interactive resource center, which provides teachers with practical tools to conduct classroom activities related to the understanding of the phenomenon, also drawing on the different experiences already implemented throughout Europe. It will also be created an ad hoc App, able to enhance the ability of students to act on their daily environment, also depending on the different geographical contexts, using interactive maps, videos, photos, tests and online games.
The European project, funded by the Erasmus + program, provides for the realization of two transnational workshops, one in Italy (in Alba) and one in Greece, with the participation of teachers, educators and at least 200 students from the four countries involved.
These moments will also serve as a "test bed" for digital instruments, which at the end of the three years will be made available to all schools in Italy and the Euro-Mediterranean basin.
Within this multi-year path, Apro Formazione and Cooperativa ERICA - both based in Alba (Cuneo) - have been chosen to be part of the international working group based on their qualified experience in the field of European projects, training and specific skills in the pedagogical, communicative and environmental fields. For more information visit the websites www.international.aproformazione.it and www.cooperica.it.
The "Click for Schools" project has been funded with support from the European Commission (contract No. 2017-1-FR01-KA201-037289 with the Agence Nationale Française), whose support does not automatically constitute approval of communications and contents disclosed: they represent in fact exclusively the point of view of the authors.
Image Gallery