Tuesday, 10 May 2022 09:51
V2V project: first internship abroad!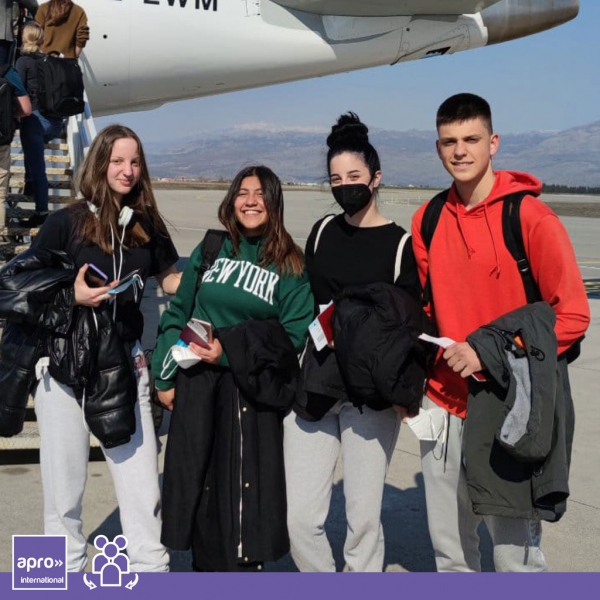 Living and working a month abroad is not easy: communicating, meeting new people, making new relationships, fully exploring the city you live in...
Often one month is not enough to fully live an international experience. This is not the case for the four students of Danilo Kis school in Budva: their desire to explore a new reality like the Italian one, more precisely Alba, led them to integrate perfectly during their work experience and meet new people.
VET to VET - Capacity building in Western Balkans is the European project that made this mobility possible. For the first time Montenegrin guys had the opportunity to make a work experience abroad.
Now it's time to find out what the guys think about it: here are the final balance of the experience of Ivona, Nemanja, Barbara and Teodora.
 Ivona
"I spent a month in Alba and I am delighted with that city. The restaurant where I worked is very nice and the team is very friendly and everyone is very kind. The job was not easy but I learned a lot.
In my free time I walked around the city, hung out with friends... we visited Turin and the impressions are beautiful, very big and beautiful city with many shopping centers..? I was also a member of the Black Bull gym for a month ... a very well equipped gym with very professional and friendly trainers.
This was really an unforgettable experience, I am glad that I participated in this project and I will definitely apply again for the next one."
Nemanja
"Ciao, I am Nemanja. I had the opportunity to live in Italy for a month in order to do an intership (cooking sector).
I did a practical classes in the small town of Alba, a beautiful city where I learned and saw a lot of things.
We visited many museums, churchs, restaurant, parks and etc....
We were in Turin and in the two smaller cities of Neive and Asti.
There, I saw and learned Italian culture and I really enjoyed it. At work I learned a lot of skills and met new people, gaining a lot of experience.
At work we prepared various dishes various pasta, pizza, squid... What I liked most was that I got to know Italians as people and their characteristics: I am pleased with everything, I have seen and learned.
I will do my best to pass on my experiences to my school mates. I hope that they will also be interested IN THIS PROJECT!"
Barbara
"In the last few weeks I visited beautiful places with charming and unique stories.
There is so much to see around Alba, lovely little towns, beautiful scenery and of course the vineyards.
I really enjoyed visiting some wineries and other places like the Castle of Grinzane Cavour, Castel of Serralunga d'Alba, The Royal palace (Turin)...There I had the opportunity to see and hear beautiful things and stories.
Among all my favorite was The Royal Palace:
The Royal Palace of Turin was for three centuries the residence of the Savoys, in which the Queen Elena Montenegrin of birth also lived.
The building is one of the oldest and most charming that we can find in the historic center and is located in the most important square of Turin, Piazza Castello, the name refers to this building. Entering it, it creates a feeling of majestic greatness in the eyes of those who walk through its rooms, making visitors feel surrounded by the usual elegance of Turin."
Teodora
"The place l got an opportunity to do my one month internship is in the center of the beautiful town called Alba. The location of my working place is located in the center where is the restaurant "La Piola".
When l first heard about the location and the name of my working place l was really happy and excited to look it up and see all the other information that l was interested about. Information such as: the people l was going to work with, dishes that they are making which are respected and loved by many people and all in all how is the restaurant working through years."