TRAIN UP – Get Started With Europe 2021/2022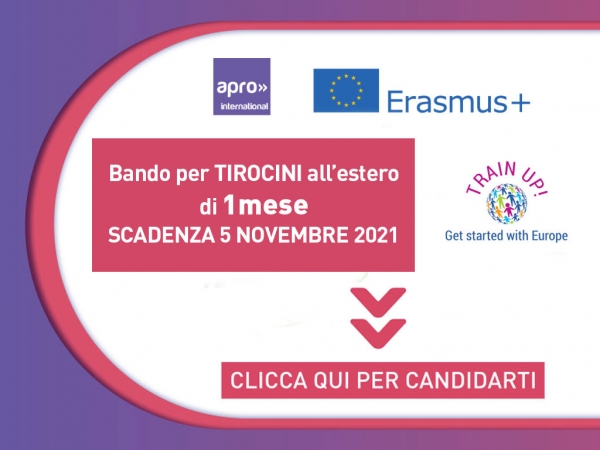 "TRAIN UP - Get Started With Europe" project is co-funded by the European Erasmus+ programme and provides training experiences abroad.
THE CALL FOR APPLICATION IS OPEN UNTIL 05/11/2021!
Student opportunities
Thanks to the project TRAIN UP 54 students over 16 years old can experience a month's internship abroad, with no expenses for their families.
Participants are selected through a call for applications published on this site.
A portion of the scholarships is reserved for people with disabilities.
Internship locations: Spain (Valencia, Barcelona, Aranjuez), France (Cannes, Salon de Provence), Croatia (Cakovec), Poland (Wroclaw), Germany (Berlin, Bremen, Bochum), Greece (Rethymno), Malta (Sliema, Valletta), Cyprus (Limassol).
Length of time abroad: 30 days, during the period of February - July 2022.
Certifications issued at the end:
Europass Mobility Certificate
ECVET recognition of skills acquired in the training paths of the participants.
Total Course Cost:
Free (the activity is co-funded by the Erasmus+ Community Programme).
Project Schedule:
Minimum of 140 hours internship (unpaid)
Method of participation:
Those interested in the initiative participate in the call for selection promoted by Apro Formazione.
Click here to download announcement
Clicck here to download attachment I – Quality Commitment
Click here to download attachment II – Documentation Guide
Clicck here to download the parental authorization to be attached during the application phase
---
After carefully reading the notice and the attachments, click here to send us your application. On the application website, click on "Tirocinio estero 1 MESE".

The project is co-funded by the Erasmus+ programme of the European Union. The author is the only responsible of this communication and the commission declines any sort of responsibility of the use of the information contained in it.