Friday, 14 January 2022 14:17
Erasmus Reporter: testimonies from Leipzig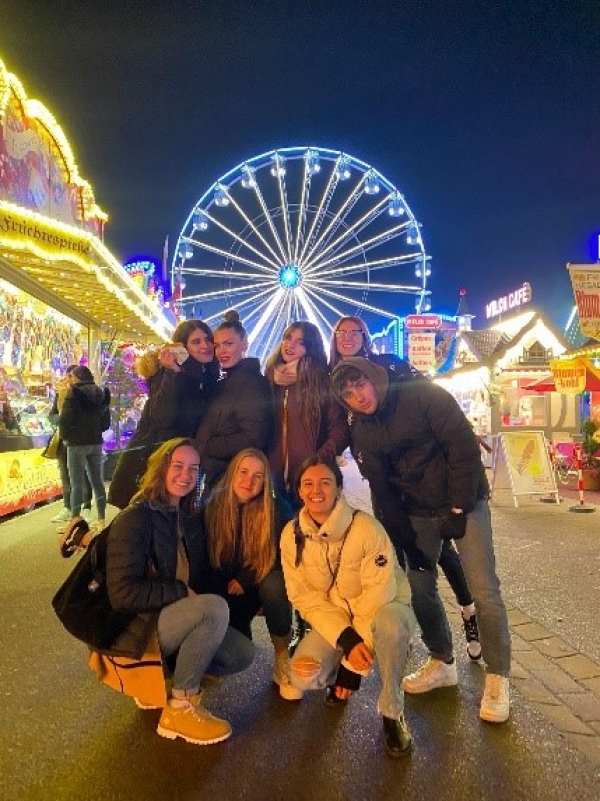 Life lessons, human experiences and job satisfaction.
Our boys and girls, engaged in a training period of 3 months in Leipzig (Germany), have just finished their experience. Here is a report of their impressions after their experience abroad.

ALINA, 19
"It was an experience that taught me a lot professionally; I gained new skills and knowledge that I am sure will be crucial for my future work.
The team I worked with made the experience more complete and the bonds with some of them are really strong.
I think that anyone who has the opportunity to participate in this Erasmus experience should not miss it.
It is a personal and professional growth from all points of view, an adventure that stays in your heart and changes you for the better.
Thank you."

BARBARA, 19
"I can't believe it's already time to go back, it seems like only a couple of days since I arrived at the station in September. On the other hand, a lot has changed in that time, so much that now trying to summarise and make sense of the emotions is difficult.
Living here has helped me a lot. I left with a lot of confusion in my mind and I think I'll come back with more clarity. Working at Spreadshirt gave me the chance to try my hand at something that fascinated me a lot: digital communication.
This experience has given me so much and I am super happy to have tried to be part of this project. I will always carry Leipzig and the fantastic people who accompanied me on this adventure in my heart".

CLARISSA, 19
"I feel changed, grown up. I've had so many different experiences in just three months, which I don't think I've fully absorbed yet; I've had the chance to meet totally different people, and each of them has taught me or left me something; I've had the opportunity to travel and visit not only the magnificent Leipzig, but also many other cities in Germany. I am so glad I decided to go, I would do it again a thousand times!
My motto in life has been for some years now "if not now, then when?" and for me it is the most correct thing you can think or say; in fact, you must not let yourself be stopped by fears and/or uncertainties, you have to defeat them thinking that, precisely, if you don't do it now maybe there will never be another occasion.
And yes, travelling is always an opportunity not to be missed!"

ENRICA, 19
"In Leipzig I experienced situations that made me think more consciously and I grew a lot personally.
My team has always supported me and made me feel at ease, the days go by really fast and I hardly realise that I am working.
I have different ideas and expectations compared to three months ago: before I excluded Germany from my future, but now I'm considering whether to return to study and live here or not. This experience has really made me grow and discover my own path."

MERIEME, 19
"I never thought I would have such an experience. It wasn't my first time away from home, nor was it my first Erasmus experience, but this experience completely marked my decisions about my future. I have to say that I have matured several thoughts during these three months: I have come to the conclusion that you should never stop at the first impression, you should never believe that your culture, your language and your food are superior to others. You have to know how to accept, how to listen and how to make what you see and hear a lesson.
Thank you Apro for this great opportunity"

GIORGIA, 19
"The three months I spent in Leipzig completely changed my way of being.
One of my biggest problems was to get out of my comfort zone and experience change. Since I've been here, I've learnt to manage myself and live with everyday problems.
I left in September full of doubts and insecurities about the future, now I can feel good about myself, although fears for the future still remain due to the current situation of uncertainty around the world."

MARTA, 19
"Leipzig has lulled us through its streets among hundreds of people, but it has also made us feel like a simple dot in the middle of the world, it has made us laugh, giving us new travelling companions, but it has also made us feel an emptiness in our stomachs at the thought of distant affections.
Even in a period of uncertainty such as the one we have been facing for the last year and a half, Leipzig has given us a safe harbour to cling to and to live an experience that until recently we could only dream of, it has made us understand what the priorities in our lives really are and it has put us to the test by finding ourselves in a country whose language we knew little or nothing. It taught us how to deal with problems in the workplace, how to deal with people who don't always think the same way as we do, making us come face to face with diversity in all its beauty; it made us understand what we like and what we would like to do without in our future and even if, at least for me, the plans didn't change, this experience offered me a new way of seeing things, of facing the future with a little more spirit and, certainly, a spirit of enterprise. Since I didn't know what to expect, I left without any expectations, except for the hope of being able to become attached to this place and to keep a good memory of it, and now that I'm only a few days away, I can say with certainty that Leipzig is not a farewell, but a goodbye."

PIETRO, 19
"I needed to do this experience to get away from home and get to know new places, a new culture, new points of view. I asked myself new questions and realised how important it is to work hard, both professionally and personally.
I have created a probable vision of the jobs of the future, noticing how new activities and new jobs are created nowadays with each passing year.
I want to study as much as possible and obtain as many skills as possible to cope with this constantly changing world and society.
It wasn't leaving everything and starting "a new life", but surely all the difficulties and anxieties faced will make me a stronger and more emotionally prepared person."

MATILDE, 19
"I have learnt that I no longer want to waste a day of my life doing useless things, I want to live every day to the full and be productive. Thanks to my work here in Leipzig, I realised that I want to find a job that stimulates me and challenges me continuously: although I love children and I love teaching them, I discovered that being a teacher is not what I really want, especially in kindergarten. I would still like to be involved in social work but in a totally different way. I am therefore very grateful to have had this experience. I can't say that I have a clear idea of my future now, but at least I have understood what I don't want to do.
I return home with indelible memories and very strong bonds, much more aware of the person I am and of my abilities.
I thank with all my heart this fantastic city that in such a short time has made me a little woman.
Auf wiedersehen Leipzig!"

ARIANNA, 19
"The time has come to draw conclusions from a very intense period, full of encounters, discoveries and teachings that have enriched my personal baggage.
I would be lying if I said that everything has been perfect, because I have had some difficulties from time to time, probably due to my lack of experience at work and the foreign language, but it is true that we learn by making mistakes and I feel that in my future work experiences I will probably remember some of these episodes that have become an example for me.
Thank you Leipzig! I hope this is goodbye!"