Tuesday, 19 October 2021 19:45
Erasmus+: New opportunity for Piedmont students (applications due by 05/11/2021)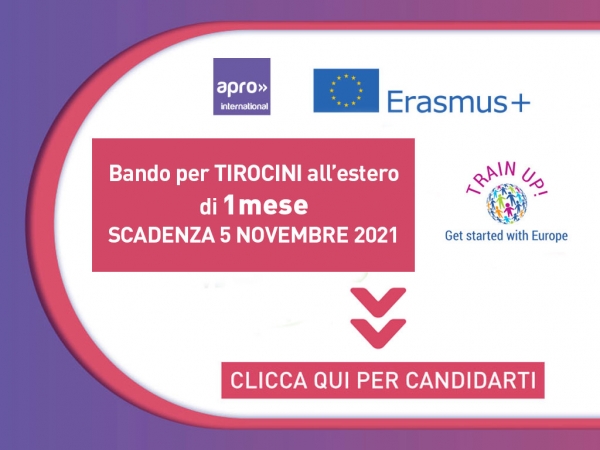 New Erasmus start for students over 16 years old and looking for new training experiences abroad!
Until 05/11/2021, you have the opportunity to apply for an internship thanks to the project "train up" of Apro Formazione, and live a 1 month experience in a company of the following European destinations:
Spain (Valencia, Barcelona, Aranjuez)
France (Cannes, Salon de Provence)
Croatia (Cakovec)
Poland (Wroclaw)
Germany (Berlin, Bremen, Bochum)
Greece (Rethymno)
Malta (Sliema, Valletta)
Cyprus (Limassol)
The activity is co-funded by the EU Erasmus+ program, so there are no costs for the student.
To apply and check the access requirements of the call CLICK HERE
Live an international educational experience!
Going on an internship abroad is an experience to live at least once in your life and an added value for your curriculum.
Being confronted with the culture and lifestyle of other countries is the best way to deepen your communication and professional skills.
Apro Formazione has a strong European vocation, promotes and implements numerous mobility initiatives co-financed by the ERASMUS+ program.
If you want to stay updated on Apro Formazione and Apro International, subscribe to our newsletter.