Friday, 15 October 2021 15:46
On October 26, 2021 at 14.30 at Apro Formazione in Alba will be held the presentation of the platform iLearn for the mobility and training of apprentices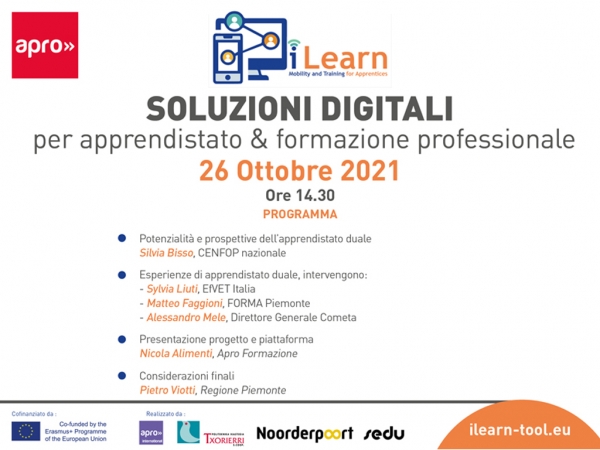 On October 26, 2021 at 14.30 at Apro Formazione in Alba will be held the presentation of the platform iLearn for the mobility and training of apprentices.
Participation in the event is possible at a distance or in presence (if in possession of a valid Green Pass) by filling out the registration form.
iLearn is the new digital platform that looks to the future of in-company training, to innovate the management and monitoring of apprenticeship programs both at a distance and in presence.
Simplification, digitalization and efficiency are the keywords of this powerful tool that allows real-time feedback between the company, the school and the apprentice and enables the evaluation of their work, activities, skills and results thanks to powerful analysis and reporting tools.
For companies, it means optimizing the time it takes to manage apprenticeship programs; for schools, it means improving tracking and achievement of learning goals.
iLearn was developed as part of a European project of Apro Formazione co-financed by the Erasmus+ program of the European Union and realized in collaboration with 3 European partners, leaders in alternance training and apprenticeship.
The iLearn platform is available in 5 languages at www.ilearn-tool.eu and can also be used by smartphones and tablets.
For details and further information please contact the following addresses
Apro International
0173.284.922 (interns 265 or 278)
europa@aproformazione.it