Friday, 03 September 2021 15:41
ILearn digital solutions for apprenticeships and vocational training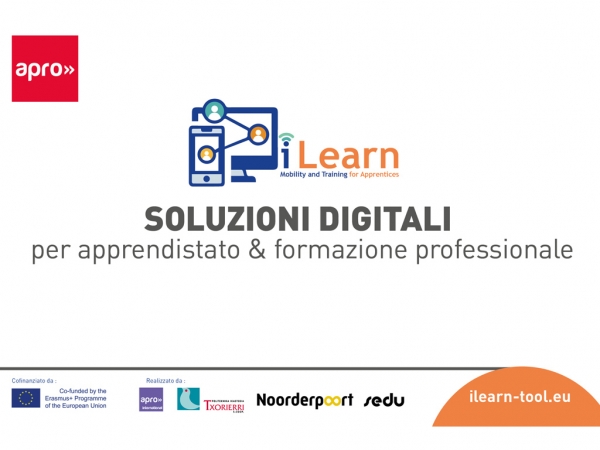 iLearn is the new digital platform that looks to the future of in-company training to innovate the management and monitoring of apprenticeship programs both at a distance and in presence.  Simplification, digitization and efficiency are the keywords of this powerful tool that allows real-time feedback between the company, the school and the apprentice and enables the evaluation of their work, activities, skills and results thanks to powerful analysis and reporting tools.
For companies, it means optimizing the time it takes to manage apprenticeship programs, and for schools, it means improving the tracking and achievement of learning objectives.
iLearn was developed as part of a European project by Apro Formazione co-funded by the Erasmus+ program of the European Union and realized in collaboration with 3 European partners who are leaders in alternance training and apprenticeship.
The iLearn platform is available in 5 languages at www.ilearn-tool.eu and can also be used by smartphones and tablets.
4 reasons to use iLearn
Guiding and evaluating apprentices in the workplace has never been easier: iLearn allows you to track activities, skills and results thanks to its analysis and reporting tools.
Be able to manage and track feedback between companies, apprentices and schools, quickly and wherever you are, even remotely.
Free membership open to all companies, vocational training schools, teachers, tutors and students.
Available in 5 languages.
Learn more about iLearn
Watch videos shot by project partners on the iLearn platform:
Finland (Sedu) - website: https://www.sedu.fi/en
Italy (Apro Formazione) - website: https://aproformazione.it/
Netherlands (Noorderpoort) - website: https://www.noorderpoort.nl/
Spain (Txorierri) - website: http://www.txorierri.net/
For information, please write to europa@aproformazione.it