Monday, 16 March 2020 12:58
Friendship in Germany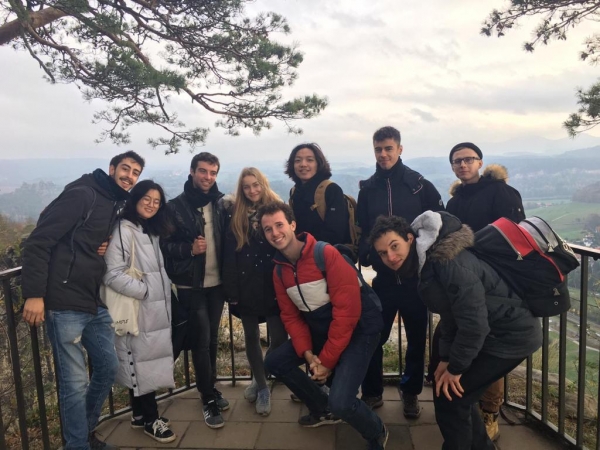 Moving to another Country, where you know nobody, it's not that easy. At the beginning you risk feeling lonely, especially when the weekend comes and you can no longer go out with your friends. Obviously, every person and every situation is different, but generally speaking, I think it is absolutely normal to miss friends, especially if they are good friends. Then, it also depends on where you move. The character, uses and customs of people change a great deal from a Mediterranean Country to one in northern Europe. We are in a sense warmer, we make friends more easily and we are louder. All that glitters is not gold, says the old proverb. I noticed this: in Countries like Germany, making friends with Germans is generally more difficult at first because people are in a certain sense more selective; they do not go out in order to know each other better and to see if the characters are suitable, because, in order to go out with someone they must already know something, they need trust. What are the pros of this behavior? Simple, just because there is this initial selection, friendships are more lasting and there are fewer problems over time. But to say that the Germans prefer quality over quantity is not exactly right, because, obviously, true and lasting friendships also exist here, but if we want to generalize ... it is something like that.
I made friends with Erasmus students at the beginning. Subsequently, I also met other people. A German boy came to the kindergarten to do the internship and from the first days we started chatting, then we began to exchange opinions on different topics such as culture, religion, travel, we had dinner together and so we stayed in touch throughout the duration of Erasmus +.

Then, an incredible thing happened. I found out that a childhood friend of mine, who was also my neighbor in Macedonia, had moved to Leipzig after school. In cases like these you realize how small the world is and you wonder if your life was really written before you were born or if it's all random. We lived in a village of 1000 inhabitants and our roads split because I moved to Italy with my family while she stayed in Macedonia, finished university and after her Erasmus in Leipzig, she decided that one day she would come back to live there. How likely were we to meet again in a country other than Macedonia? I leave the answer to you.
Anyway, right from the start, we got on very well and slowly I also made friends with his roommate and another boy. They are very nice and very good people. One of the things we have most in common? Without a shadow of a doubt our passion for travel and for discovering the world; so much so that we went around the lakes of Leipzig by bicycle, we joked and laughed a lot. We had also booked accommodation for a weekend in Prague, but unfortunately the Czech Republic has decided to close the borders to Germany due to the health emergency and we had to give up.
I am very happy and I also feel lucky to have known these people in just six months, I am sure that if I had stopped in Leipzig we would have remained friends. Now that I write this article and I think that in a few days I won't see it anymore, I get a little sadness. Fortunately, however, I have a lot of memories and ... we also promised that we will meet again in Italy, since they haven't been there yet, and who knows, maybe we'll do some other trips together in the future.
Nikola