Monday, 09 March 2020 15:13
My receptionist experience in Malta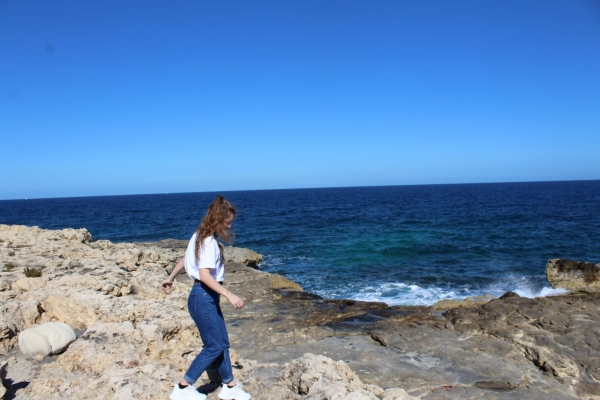 My internship here in Malta is my first work experience and fortunately, I do the job that interests me from the moment I enrolled for this position.
In fact, I have been working for 5 months at the reception of the Waterfront hotel, in Sliema. I've always been interested in this job and that's why I decided to try. With this experience I have discovered much more closely how it works and I am also sure that it will be important for my curriculum.
I have to admit that the first few weeks have not been exactly as I had imagined. I realized that you can't learn a job in a couple of days, and that there are things you learn on your own thanks to the experience because there is no book to teach it.
Working at the reception means having direct contact with customers and the way to approach the student by observing and getting used to it. In the first period, in fact, being in a new country and in a new environment, I often felt like a fish out of water. One thing that I immediately noticed is that working at the reception also means being informed not only about your hotel but also about the country and the area in which you are located. In fact, there are many customers who ask any kind of questions and the receptionist must still answer questions about the whole hotel in front of customers. He is represented as a person to whom customers use and therefore all the other figures who work in the hotel but with other roles and not visible to the public. In the hotel, in fact, there are also other offices, such as reservations, accounting and human resources, but in the eyes of the customer there is only the reception and it is the one to which it is addressed. The front desk then receives communications from all other offices and, when unfortunately also customers' complaints.
Formally the reception is not the manager of the hotel, he does not take care of the rooms, its maintenance, its finances, but if there are problems the customer turns to him that somehow is responsible for it.
As mentioned at the beginning, many customers come to the reception to ask for information on what to do, where to go, etc. But these are all things that are learned with the experience or with the advice of more experienced colleagues. At the beginning, in fact, when customers asked me maybe how to reach a certain place, or advice on places of interest, I was always a bit in difficulty, because not being a local, I still didn't have the experience to be able to answer everything. An important feature of the receptionist is that of having as many "concrete experiences" as possible in the area: going to restaurants, taking public transportation, visiting places of interest. In short, put yourself in the shoes of a tourist. Only in this way you can respond to customers and give a sincere and tested advice.
In addition to this, of course, there are also check-ins, check-outs, the organization of rooms, which can largely be learned from the computer program when a colleague explains it, but even here the experience proves useful. At first, when there was something a little different from what I had learned, I found myself stuck. Now, however, I know that sometimes there are variables and I know how to act accordingly. For example, a trivial episode, I learned how to make payments. It can happen that the customer asks if he can pay a part in cash and a part with the card. When they taught me they hadn't talked about this case, since it's quite rare. As I am not responsible for the hotel, I cannot make decisions myself, because there are regulations to comply with, so at that point I ask my colleagues. In this way, if another customer makes the same request, I will already know the answer to give him, but I know it thanks to the experience, thanks to the fact that there was this customer question.
It's nice to have the opportunity to interact with so many different kinds of people, from various parts of the world, but I'd like to talk about this in the next article because there are interesting things to say.
In conclusion, I really enjoy working at the reception, it allows me to learn better from time to time and to discover new things also about what surrounds me and so I am always updated.
Ilaria
Young, motivated and eager to find out what there is in Europe for them. Ilaria, Thomas, Valentin and Elisa have been selected for #ErasmusPro, the new Erasmus designed to promote "long-term" vocational training experiences. Thanks to the APRO Formazione project "WAVES - Sail towards your future", Ilaria, Thomas, Valentin and Elisa are doing their #ErasmusPro in Malta for 6 months, from October 2019 to the beginning of April 2020. Each week, in turn, they will send us their impressions.