Tuesday, 04 February 2020 07:09
FRIENDSHIP IN ERASMUS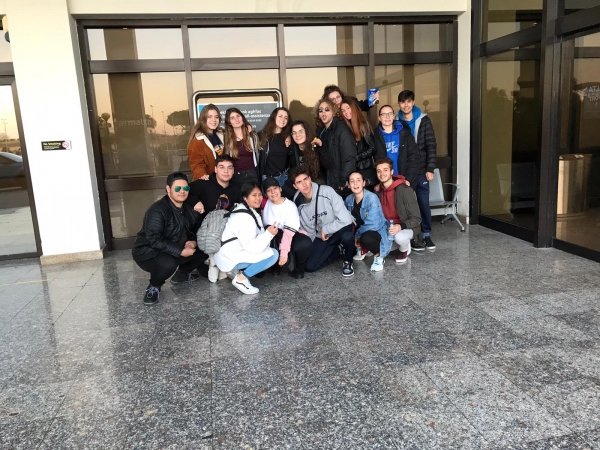 When I left, I didn't expect to build the friendships that circumstances led me to build. In fact, I thought of establishing a beautiful friendship with the three guys who left with me and that the four of us would live alone, but actually I found myself living something much more intense. Although these three people and I shared the same apartment, the entire building is actually home to many other guys like us on Erasmus. Initially this thing caught us off guard, because it was something totally unexpected. We entered the palace and were invaded by a flood of boys like us, all from Puglia. I admit it, at first glance I didn't like it at all, because I didn't know how it would affect my life from then on. Over time, however, things have changed, and the situation has not turned out to be bad at all. The group of boys we met upon our arrival left after a month, and although I had established a fairly pleasant friendship with them, I still had not known the true friends of this Erasmus, those who arrived in the second group (always from Puglia ). With them I established one of the most beautiful friends of my life and the fact of living all together in the same building made us slowly as part of a large family. With them I felt accepted and loved for who I am. I laughed and cried, lived many experiences and went through many changes and seeing their face always reminded me of home. They made me understand that "home" is not a place, but a feeling, something deeper. Little by little my life started to turn more and more around them, so much that there were moments when I didn't even remember being in Erasmus in Malta.
This palace, the 126 Triq Luqa Briffa, teaches you to know people for who they really are. The palace throws unscrupulous merits and flaws in your face, but this is the fun part. When I was my friends, every day it turned out to be a mix of different emotions, and it intrigued me to get to know these people on a personal level. I imagined them as books, to be opened and discovered. Each of them had something different and special, and this is what we should preserve and admire with people in general... the diversity and what makes us truly unique. I don't mean banalities like hair or a pair of shoes, I mean something deeper. Personality and the way of perceiving and experiencing reality are truly what characterizes a person. Malta itself is a country that teaches you that diversity is actually a perfect key not only to establish beautiful relationships that deviate from the usual judgments and prejudices, but also to get to know yourself. These people who lived with me from November to January have totally changed my life and my person and I too have changed theirs. It was an exchange, a sharing, as it happens in a good relationship.
Unfortunately, the day of their departure, January 27th, arrived. In fact, they had a three-month stay and not a six-month stay like us at Apro Formazione. It was a day of tears and suffering. Suddenly the habits I loved were broken and the faces that used to make me feel in my safe and comfortable area disappear as if in nothing. Now the house without them is often empty and turned off. We used to meet on the fifth floor, we didn't always do something specific, it was enough for us to be together. After all, it's in human nature to try to be with others and surround yourself with people who give positive vibes. Personally, I consider myself extremely lucky to have known these people. I have experienced magical moments that I will never forget. I have beautiful memories impressed from the Christmas period; we were all on vacation and we used to wake up around two in the afternoon, get ready in a hurry and take the bus to go and see the sunset in some magical place in Malta. Malta is full of natural places that transmit deep and free sensations, and reaching them with the people you love is even more beautiful. We did this several times, each time choosing a different destination; needless to say, they were moments of pure light-heartedness and serenity for me. I had nothing to think about except to remember to get off at the right stop. But I don't remember only this, because magical memories are innumerable. From the many evenings spent at home, to those in Paceville and to the moments of normal everyday life, I can say that I have lived well and satisfactorily. Now that almost everyone has left, we just have to remember and hope to see you again at the end of our stay.
Maybe I'll go to Puglia, or maybe someone will come to Turin. At the moment, in the building, there are other boys with whom I am making friends. Obviously there are still my three roommates and I firmly believe that the presence of the others has also changed the relationship between the four of us, enriching it and making it more peaceful and pleasant. In addition, there are also three Portuguese boys who arrived a few months ago, one of whom is a close friend and part of the group. Unfortunately, at the end of February they too will return home, and we will find ourselves having to say goodbye again.
In a few days another group will arrive, and who knows what will happen. The bitterness of the departure of others blocks me the enthusiasm of knowing other faces, but we know that if something has to happen, it will just happen. Anyway, I really think we were very lucky to have met all these wonderful people in the right place (almost), at the right time and with the right circumstances.
I also made friends in the workplace and also on my own. What makes me sick is that I will leave everything here. There will be nothing left to tie us after the end of the internship. Or maybe yes. I will only find out by living. I believe that every person we meet is destined to cross our path for some reason, especially to enrich us and make us feel alive and I am grateful to have come here to Malta and to have had the opportunity to meet people who have changed my life making it better.
Thomas
Young, motivated and eager to find out what there is in Europe for them. Ilaria, Thomas, Valentin and Elisa have been selected for #ErasmusPro, the new Erasmus designed to promote "long-term" vocational training experiences. Thanks to the APRO Formazione project "WAVES - Sail towards your future", Ilaria, Thomas, Valentin and Elisa are doing their #ErasmusPro in Malta for 6 months, from October 2019 to the beginning of April 2020. Each week, in turn, they will send us their impressions.