Thursday, 31 October 2019 12:59
Living abroad to live life to the fullest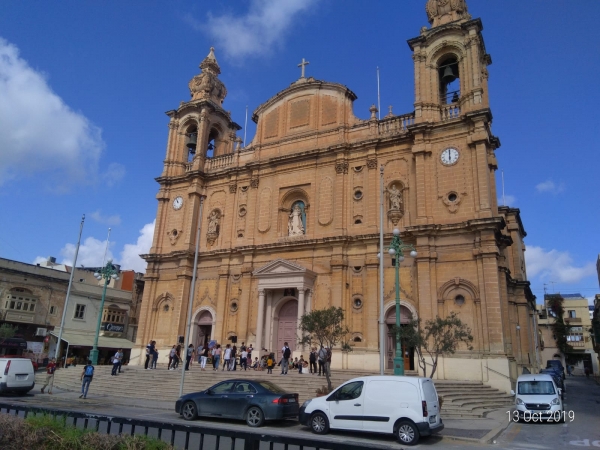 Young, motivated and eager to find out what there is in Europe for them. Ilaria, Thomas, Valentin and Elisa have been selected for #ErasmusPro, the new Erasmus designed to promote "long-term" vocational training experiences. Thanks to the APRO Formazione project "WAVES - Sail towards your future", Ilaria, Thomas, Valentin and Elisa are doing their #ErasmusPro in Malta for 6 months, from October 2019 to the beginning of April 2020. Each week, in turn, they will send us their impressions.
I am Elisa, I am 19 years old and I come from Cuneo, Piedmont. I graduated from ITC Bonelli as a computer accountant and in October I left for this Erasmus + experience in Malta, where I will spend the next 6 months. When I decided to participate in the project, I didn't ask for suggestions, I decided and participated. It was one of those decisions that are taken with a clear Yes or with a definite No, without too many words. Once the selection was over I would not have imagined being taken, it was a surprise for me to find out. I don't usually win anything, luck is not on my side and when I received an e-mail confirming my departure, I was filled with unconscious joy and there I understood that yes, I had to leave. I can't deny that there were doubts about the choice made, and that 6 months is a long period. I don't usually run away from challenges, I like to test myself and deal with complications with my strengths. I decided to be fearless once again and not to discourage myself in any way. Many asked me how I could not be afraid and I wondered how they could ask me, is it worth asking? Do you have to have it? I didn't think about it, I didn't want to have it and I didn't make it come. I wasn't scared, afraid of time, and distance from loved ones. I wanted to leave and walk away from home, I didn't want to stop my instinct and I wanted to leave everything behind and start a new chapter. It is always good to occasionally put a point, wrap up and start a new sentence. I like to create memories, live moments and affirm to have lived without stopping, without setting limits of any kind. Do not brake, accelerate or go back. When a person travels, does she ever come back the same as before? No, you can't, travel makes you free and teaches, teaches a lot, enriches and never impoverishes, you return changed, a traveler will always have more than anyone else.Challenge yourself, this is my advice, do not listen to those who ask you questions to make you believe that it is madness, an unhealthy idea, do not be intimidated, make decisions and do not be influenced by anyone, start alone and live every experience to the fullest. When you set foot on the ground, get off the plane, your new chapter will start there, and it will be only yours. There will be no friends and family, but it will be possible to find new ones where you arrive. Every departure is always a beginning, a starting point from every point of view. The new chapter of my life is called Malta, I expect to fill it with memories, moments, experiences and people. The places leave so much and so much is left also by the people you meet and those with whom you live the journey. We are many here, we live in a 5-flat building and every floor is full of life, courage, resourcefulness, strength, we are all in the same boat, we all left for different but similar reasons, we have chosen not to slow down time remaining at home, but to continue living outside our comfort zone. I don't like monotony, it bores me and traveling breaks all ties with habits, lengthens time and you have the impression to live longer. Live every place you go, the culture, the language, the traditions, experience the new aspects that are not part of your everyday life.Malta is a mixture of English and Italian tradition, the Maltese has a certain Arabic sound, I would say that it is not very catchy, but English and Italian are also spoken, always useful in case of need. The island is very beautiful, even though we have only been here for 3 weeks and we still have to visit a lot. Life here is hectic, there is a lot of traffic and drivers are always in a hurry. Public transport makes you wait and sometimes it is not very efficient and reliable, but you get used to it. My workplace is welcoming and the employees are nice, helpful and friendly. At home, you live together. What is sharing the same flat like? It is also an experience. One lives alone and at the same time, no. Is it a difficulty to consider? No, it is part of the game. If you are reading this post, it already means that you are asking yourself questions and that you are putting the idea of ​​a stay abroad like this in your future plans.What are you waiting for? I already have my suitcase ready for the next trip and I have yet to finish this.
Good luck travelers, be fearless!