Friday, 25 October 2019 12:45
Ilaria's interest in world different cultures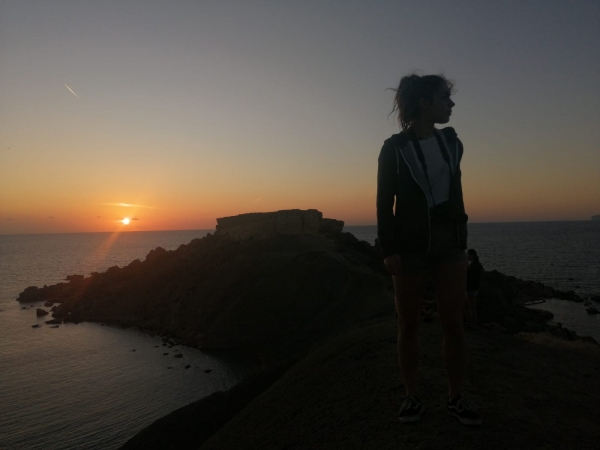 Young, motivated and eager to find out what there is in Europe for them. Ilaria, Thomas, Valentin and Elisa have been selected for #ErasmusPro, the new Erasmus designed to promote "long-term" vocational training experiences. Thanks to the APRO Formazione project "WAVES - Sail towards your future", Ilaria, Thomas, Valentin and Elisa are doing their #ErasmusPro in Malta for 6 months, from October 2019 to the beginning of April 2020. Each week, in turn, they will send us their impressions.
Almost three weeks have passed since I arrived in Malta. Time seems to have flown, it seems to me yesterday when I read that I had been selected for this project and now I am already here to live it.
Actually when I knew it, I still had to pass my high school exam. In fact, I attended a  linguistic high school and since I was born in 2000, I have finished just this year.
Let's say that the reasons that led me to choose that high school are roughly the same ones that led me to make this experience. I have always liked the idea of ​​living and being in touch with a diverse and intercultural world, discovering different habits and traditions. And I thought that the linguistic high school would give me the tools to do it. And so it was.
At the end of this journey, however, I asked myself: what do I want to do? Continue my studies? If yes, in which area?
I felt that starting university this year would not have been the right choice for me, I wanted to live a concrete experience, in contact with the world and not just linked with books. The Erasmus Pro was just what I was looking for. In recent years, it seemed to me that I had become too reflective. I had always been, but in the last period the thing was accentuated, and I thought that spending more time at school would not have helped me.
I really needed to do something practical, to put me in the living world, that of work.
And I needed to test myself, to do something I was scared of but that I would have tried to overcome by myself, with only my strength.
This experience represented for me therefore also the possibility to finally make me more independent and to understand how the world worked outside of one's own home, without the help of my parents.
And for all these various reasons, I sent my application and now I find myself writing this article from my new home in Malta.
I chose to take these experiences as an opportunity for individual growth, which allows me to focus on myself and my life, learning to prioritize the various components of everyday life, and to help me focus my future.
So I landed in Malta with this big amount of individual expectations and obviously the right amount of anxiety. Having people in my same situation was very comforting.
Entering the apartment, we realized that we would have shared these six months together and that this meant having to organize to "survive" alone in another country.
And so we are doing. It is satisfying to know that you are the only person responsible for the house, to be able to rely only on yourself. Obviously this represents many responsibilities but also a lot of freedom. Freedom that we used to tour the island a little and visit some truly breathtaking places, such as Riviera Bay and Valletta in the evening.
Right from the start, this Erasmus Pro is proving to be an enriching experience that I can't wait to continue living.