Monday, 21 October 2019 08:31
Our Erasmus PRO experience in Leipzig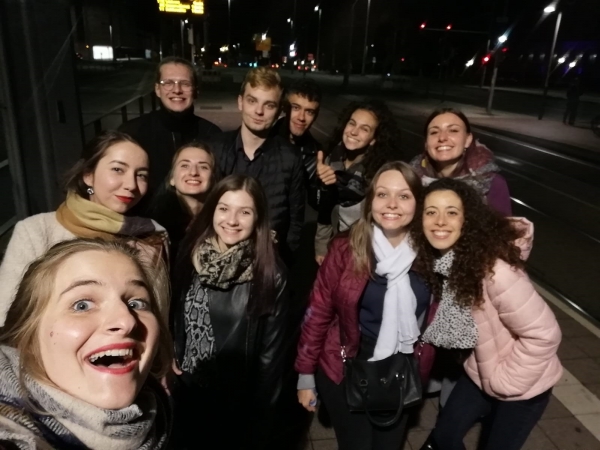 Young, motivated and eager to find out what Europe can offer them. Caterina, Nikola and Francesca are the 3 young students we selected for the #ErasmusPro, the new Erasmus designed to promote "long-term" vocational training experiences. Thanks to the APRO Training project "WAVES - Sail towards your future", Caterina, Nikola and Francesca are doing their #ErasmusPro in Lispia for 6 months, from October 2019 to the beginning of April 2020. Each week, in turn, they will send us their impressions. Here are the first that have thrown down in these first three weeks abroad.
Leipzig 09/10/2019
Let me introduce myself, I am Caterina, a 19-year-old girl from Campo Tizzoro, a small town in the province of Pistoia. In June I graduated from the F. Pacini high school where I studied English, Spanish and German for five years.
Today is my third day in Leipzig, the city where I will do my six-month internship in a kindergarten. Why did I decide to leave? Difficult to explain. Do you know that feeling that comes over you when you feel that something is right for you? Here, this is what I heard when my German teacher spoke to me for the first time about this Erasmus +. I believe in the "Carpe diem", so I decided to grab this opportunity and try my best to get it.
In this first week Nikola, Francesca and I are doing several orientation activities with three volunteers from Spain, Romania and France and today we started our German course with a native teacher.
My first impressions are very positive, it seems that in this city there is really no time to get bored, given the large number of activities that are organized daily. Today, for example, it is a very special day, because it is 30 years since the "friedliche Revolution", a peaceful demonstration that contributed in 1989 to the fall of the Wall and the reunification of Germany. In memory, this evening a "Lichtfest" is organized which will see the inhabitants of Leipzig gathered in the center of the city, accompanied by the light of many candles.
See you soon!
Catherine   
Leipzig 14/10/2019
Hi, I'm Francesca! I am a 19 year old girl and I live in Cercenasco, a small town near Turin. I attended and finished Liceo Linguistico in Pinerolo this year. I have always loved traveling, meeting new people and different cultures.  Without a precise idea of ​​my future, but with the dream of continuing to travel and improve the languages ​​learned at school, I became aware of Apro Formazione, which proposed an exchange program in Germany. Determined to leave, I immediately enrolled, without wasting time. I did the interview and the various written tests, I waited anxiously for the results, until the day I received the confirmation e-mail. I had been selected, destination Leipzig!
I decided to leave to live this experience for a personal growth and to improve my language skills. I decided to leave to test my autonomy, but at the same time learn to know and adapt myself to situations and ways of life different from mine. I arrived in Leipzig on 7 October 2019 and I was welcomed by Fairbund, an organization that together with Apro organized this Erasmus +. They first hosted me in their office to explain local rules and lifestyles, then they took me to the apartment that would soon become my home. I didn't waste any time and immediately slipped into the city center, a collection of ancient structures and modern buildings; many alleys to discover and an immensity of green areas in which to stop and read a book or take a walk. A week has passed since my arrival in this city and it is almost time to start working, the Kindergarten of Goyastrasse is waiting for me! 
Leipzig, 21/10/2019
My name is Nikola and I am 20 years old. I was born in Macedonia, but I have lived in Italy since 2006, so I consider Italy my home. In fact, even most of my relatives and friends live in Italy. In these 13 years, I have always lived in the same place ... and with the passage of time I fell in love with the village where I live. I like everything about it: it is calm, it is beautiful from a naturalistic point of view, people are very sociable and not far from Alba. I am a person who likes adventures, I like discovering new things and above all new places, especially beautiful places from a naturalistic point of view. I consider myself a sports person. I can't sit still for many hours, playing videogames for example.
This summer I graduated from the Einaudi Institute in Alba in accounting. At the age of 14 I chise this school because it was the period in which I started using e-commerce. I became passionate about the world of commerce and marketing. But then something happened. Although I had good results in business administration, I understood that this world was not suitable for me. Meanwhile, I gradually became fond of literature. So I thought: '' Why not become an English teacher? '' Moreover, English has always been a great passion for me, I like working with young people, and in this way I could also study British and American literature. Maybe you are wondering now: '' Then why didn't you join the university? ''. Good question, the answer is a bit complicated ... but I will try to make it very simple. I did not enroll at the university for various reasons. First of all, I would prefer to do university in another EU country, so that I can get in touch with another culture and in the meantime also learn another language. I am convinced that this age is the right one to make such an experience. Then, I wanted to take a gap year to reflect, choose calmly and try to be accepted by the university that offers me the best expectations. Then I said to myself: '' Why don't you try this interview, so if you get selectd you will go abroad for six months and you will be able to think calmly''.
So I did, and now here I am in Leipzig. During the interview, I asked to come to Germany (in case I were chosen), because a university that interests me very much is in Berlin. It offers a course entirely in English, which allows me to study Anglo-American culture, society, history and literature. In addition, students are given the opportunity to study for six months in the US. Going to the United States for six months would be great. I am very curious to see how they live there (obviously I know it's not like in the movies). Another reason why I decided to leave is because I want to test myself. I want to see what it feels like to stay away from family and friends. As mentioned above, I want to have time to think and make decisions without being influenced by others. I want to see how I react to this new challenge. Yes, challenge because, unlike the other two girls, I did not study German at school; so, I came out of my comfort zone and I'm trying hard to learn it now from books taken from the library, the internet and YouTube. So, all in all, I consider this a courageous choice. I don't know how many would have made it.Despite the nervousness of Friday before leaving, as soon as I arrived I was relieved because everything had gone well. Obviously I felt a bit strange and uncomfortable because I was in a new reality, of which I did not know the culture and the language. All in all, however, until now everything is going well. As for impressions, I realized that Germans are very keen on respecting certain rules, such as punctuality. The organization, especially that of public services, is excellent. One thing that impressed me a lot, in negative I must say, concerns privacy. They are fixed with it. For example, they don't want you to say your colleagues' names when you talk to friends (they ask you not to say their name, to invent it ... woe to you if you miss their full name and surname). Despite this, the people I work with for now seem sociable and willing to help me, I hope that this will remain so in the future.