Wednesday, 31 July 2019 08:12
Should I stay or should I go? Francesca's balance of the experience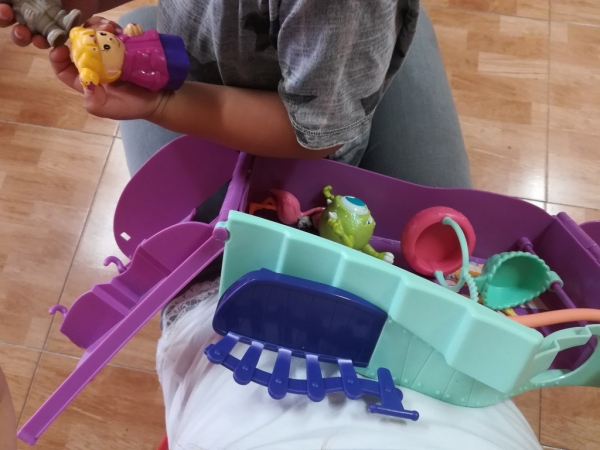 #ErasmusPro is the new Erasmus designed to promote long-term professional training experience. Thanks to the APRO Formazione's project "WAVES - Sail towards your future", Francesca, Carmen and Ludovica lived their #ErasmusPro in Valencia for 6 months, from January to July 2019.
12 January 2019, around 8.30 am
Milan Malpensa Airport
When I was embarking for Valencia, the only thought I had was: "Make sure a new Francesca will land in 6 months at this airport. Make the most of this opportunity without giving yourself limits and restrictions. Accept things as they come, without expectations, anxieties and fears ".
Needless to say, I was going to the gate with tears in my eyes because behind me I was leaving my family first of all, my habits, my friends, the small town where I lived: in a nutshell the certainties and things known. Instead, in front of me I had the third largest city in Spain, a different language, different people, a country with different habits, customs, traditions and food: in general, the unknown.
12 January 2019, around 2.20pm
Calle Carcagente, Valencia
The first moment I really realized that I would have lived in Spain for the next 6 months. Yes, because that was clear after my tutor left. I saw concretely that I had the keys to a house that wasn't mine, I didn't see my family around the house, I didn't see Villafranca d'Asti train station from my window, the bathroom had to be shared and finally my bedroom was impersonal and furnished only with a wardrobe, a desk and a bed (much bigger than the one in my house in Italy, so it was immediately well accepted hahahaha).
As soon as I arrived I burst into tears, tears of joy of course, because I never thought I had the courage to do such a thing, but in the meantime I was very hungry so my first Spanish lunch was with a ham, cheese sandwich and tears in front of the window to see Spanish people. After the sandwich I immediately started unpacking the suitcase because I wanted to give life to that room so bare and white.
11 July 2019, 5.00 pm
Virgen de Cortes, Valencia
Melancholy. Happiness. These are the two feelings I felt that day. At school, only one child is waiting for his mother to pick him up. "I think the time has come for us to leave" "No, I don't want you to go away" said a teacher.
"Do not go. I host you at my house "." Promise us that you will come back even for a week ". " For us you were a colleague, for the children a friend ".  " I hope everything goes well for you because you deserve it ". "Know that in the future when you return to Valencia, you will have friends and my house where you can stay ". These were some of the sentences that the teachers whispered in my ears, sobbing between one hug and another.
Melancholy, because I knew that I would never see "my" children again, as I called them, that the next day I would not have seen the beauties of the city and that I would have no longer lived there.
Happiness, because I knew I was coming home, I brought new beautiful memories with me to Italy, new episodes and anecdotes to tell, new skills and skills learned, but above all I carried with me a new Francesca.
22 July 2019Villafranca d'AstiIt is now a week since we have returned to Italy, and I had had time to metabolize the whole experience.I would have never thought that such an experience could change me both in the way of thinking and in the way of living life. Before leaving, I was a person who had to have everything organized before doing something. To give you a practical example, in the past when I left home and saw clouds predicting rain, I always brought my umbrella with me. With this experience, I realized that it is not necessary to live life with all these little "worries" because as far as we can organize, the unforeseen events we are not prepared for will always be there. So if I get wet, because I haven't taken an umbrella with me, nothing so catastrophic will happen. With a hairdryer and a towel, everything will be solved (perhaps with the addition of tachypirina if the rain had caused fever and / or cold hahahah). I lived in an unknown city, where everything was unknown, and I had more important things to think about than to spend time thinking of all the negative things that could happen.Before January, the mere idea of ​​getting lost in the streets, not knowing which direction to take and not knowing where I was, gave me anxiety. In Valencia every Saturday night ended with me, Carmen and Ludovica got lost. Before January they were occasional times when I had dinner after 8.30 pm. From my first days in Spain, I realized that if I wanted to adapt to Spanish life I would have to assimilate their habits.Before January I never thought I would start thinking in a language other than Italian: at work they spoke Spanish, my roommates spoke Spanish, people in the street spoke Spanish and even just to buy bread I could hear Spanish, so it's inevitable that slowly you get used to thinking in that language.Before January I struggled to relate to new people, I didn't get close to talking to the first person who passed by: during this experience I related to Germans, Lithuanians, Estonians, Peruvians and Spanish people. In addition, I established a beautiful friendship with Ludovica, the person with whom I shared this experience. The three of us every weekend discovered the beauty of the city that hosted us, the nights we told each other how our working days went, we were indignant when we saw the strange habits of the roommates, we imagined what the roommates would look like, and more importantly we got lost together on Saturday nights after the Voltereta or before going to eat at Spacca Napoli. Thank you once again, but it will never be enough, Giulia and Apro Formazione for having selected me and given me the opportunity to participate in this experience that I will always carry in my heart and in my memories.I thank my tutor Aleksandra and all the staff of Esmovia, our Spanish hosting company, who has welcomed us since our landing at Valencia airport, has been attentive to our needs, which advised us at each meeting on what to do in the weekends. I thank Eva, our Spanish teacher, even if she was just a teacher only the first week.Later she became a job agency, an information office for the Spanish university, a counselor. She is truly an exceptional person, sweet, sensitive, funny, non-conformist and I am happy to have shared part of my adventure with her. I thank all the teachers of Virgen de Cortes who welcomed me as a colleague, taught me new things, loved me and gave me more and more autonomy and responsibility in my work, something that no one had ever given me. I thank my family who supported me in this adventure: despite the distance, I knew they were always close to me to support me and encourage me to enjoy this opportunity to the fullest. They were my first "supporters" . I thank my adventure friends, Carmen and Ludovica, with whom I practically shared the whole experience. We spent some really hilarious moments together, which I will take with me (in my album of memories hahah). Last but not least, I thank myself for having had the courage to launch myself into this experience, for having given me the opportunity to live it, for having kept faith with the promise I made before leaving (the one of living at the maximum Erasmus), for having learned to live my life with a different style, for having wanted to confront myself with different nationalities, for not giving up when difficulties came, for having given the maximum in my work with children and for having taken seriously everything that happened to me. To all the people who are reading this article I would like to say one thing: travel, go out from your comfort zone and launch yourself into new things. Maybe you will discover that your happiness is in a place that you do not call yet home! 
A warm hug,Francesca!