Monday, 10 June 2019 10:35
MY ERASMUS PRO EXPERIENCE #21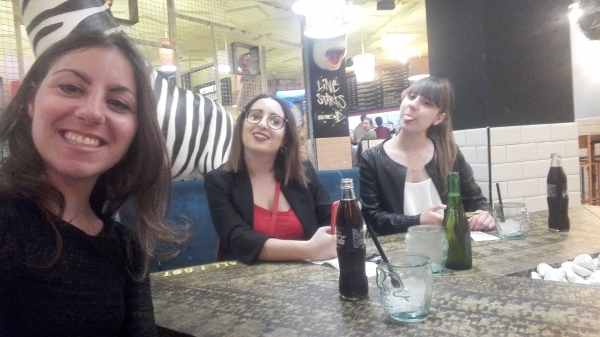 #ErasmusPro is the new type of Erasmus designed to promote long-lasting professional training experiences. Thanks to the project "WAVES - Sail towards your future" of APRO Formazione, Francesca, Carmen and Ludovica are experiencing their #ErasmusPro in Valencia for 6 months, from January to July 2019. Each week, in turn, they will tell us how they are living this experience.
Hola (holi to say it colloquially) chicos y chicas!
In a few days we will celebrate our fifth month anniversary since our arrival in Erasmus in Valencia!
What can I say? It is a truly fantastic experience, which happens a few times in life and makes you grow under various points of view, for example professional, personal, but also linguistic.
I have to say that as soon as I arrived my language level was quite good, as I had been studying Spanish for 5 years. I could understand what people were telling me and, even if I made some mistakes, I was able to make myself understood.
The first two weeks, however, we followed a 4-hour Spanish course with a teacher every day, so that we could become more familiar with the language. From the third week in Valencia, the course hours have been reduced to 2 meetings a month (one every two weeks).
At each meeting this teacher named Eva explains to us, sometimes even in a fun way with games, photocopies with memes and more, every aspect of Spanish, starting from the present to the subjunctive, passing through the words of the kitchen.
I want to say a few words about Eva because, besides being a good teacher, she is a good person, with so much energy, intelligent, profound, concrete, but above all full of joy that she puts in her work. Slowly during these five months, we have learned to know each other and we have created a beautiful and sincere relationship.
Thanks to her, to my commitment, to the mistakes I made, I have improved a lot from the linguistic point of view (especially in the "speaking part"). Now I am very at ease when I speak, as I don't make so many mistakes anymore and above all I have acquired fluidity, which is a very important aspect. And this is true for my two legendary adventure mates!
These improvements are noticeable by small things. For example, the two times we went to the cinema to see films in Spanish we understood the various dialogues. When we go out with Spanish people, we talk quietly without having them to correct us much. We have learned proverbs and words that are used in a completely informal way (thanks to Eva and work colleagues) and, in addition, the parents of the nursery children where I do the training, when I tell them that I am Italian and I have been in Spain for 5 months do not believe it and are amazed.
I am very proud of the progress I have made in these 5 months, as I arrived in Valencia I had established 'linguistic goals' to reach and I can say that I was able to achieve them slowly.
See you at the next article!
Carmen