Monday, 06 May 2019 13:46
MY ERASMUS PRO EXPERIENCE #16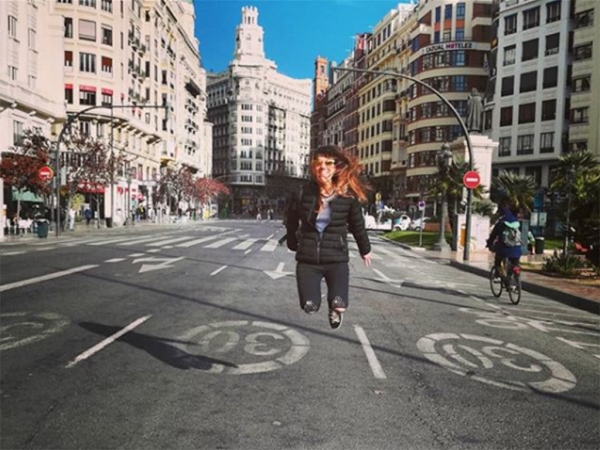 #ErasmusPro is the new type of Erasmus designed to promote long-lasting professional training experiences. Thanks to the project "WAVES - Sail towards your future" of APRO Formazione, Francesca, Carmen and Ludovica are experiencing their #ErasmusPro in Valencia for 6 months, from January to July 2019. Each week, in turn, they will tell us how they are living this experience.
Hola, buenas a todos. Qué tal?
Today I want to make an initial assessment of my Erasmus PRO, referring to the first three months of this experience.
From January 12th 2019, the starting date of my Spanish stay, many things have changed, first of all what has changed is me, from all points of view: the character, mental, professional, linguistic and above all the physical one, since mi cara està empezando a ser gordita! (I hope that writing it in Spanish, you don't understand haha).
Francesca before was a 19 year old girl who had never been abroad, so Italian was the only language she knew well, a girl who had never traveled alone, a girl who had never been away from home for a long time, a girl who could not do the washing machine (maybe it was better if I didn't write it). She was a girl full of fear, the absurd fear of new and important things in life, of how to change one's habits. She was afraid of thinking about the future, of looking for a job (things that inevitably happen to any person). She had the fear of not being able to count on one's family members , the fear of not being able to complete the experience, the fear of having to relate to absolutely unknown people, the fear of having to communicate in a foreign language that she did not know so thoroughly, the fear of not finding anything familiar. She was afraid of feeling homesick, of family members, friends and of not being ready to go and live alone. In short, Francesca was the last person one would have imagined could participate in an Erasmus.
At the same time, she had strengths, such as determination, the desire to start creating her own life alone, the desire to get involved, the desire for autonomy and to be independent, the desire to build her future in a country different from the one in which she grew up, the desire to see new places and make different experiences, the desire to grow, the desire to discover, the desire to learn to get by on her own, the desire to go to Spain, the determination and the constant cheer. In short, Francesca had the strong motivation that one would have imagined she could have for participating in an Erasmus.
Today, May 6th 2019 Francesca is a 19 year old girl who has reached unimaginable goals, in relation to the person she was before her departure: she is a girl who has always found herself at ease in the new city, a girl who is not ashamed to ask for directions when she got lost, a girl who agrees to go out with people from other nationalities, a girl who has learned by necessity and alone how to unload the shower drain, a girl who despite the initial difficulties has managed to integrate very well into the work environment, a girl who with a smile a day has managed to gain the trust and sympathy of colleagues, a girl who when she enters the classroom gladly takes hugs and kisses from children, a girl who has learned to communicate and , sometimes, to think in Spanish, a girl who at 19 knows how to manage a house, a girl who has learned to adapt to the situations that can put her in difficulty, a girl who lives the changes step by step and without worries, a girl who considers Valencia as her home, a girl who takes full advantage of any opportunity to create her personal baggage.
The Erasmus before being a professional experience is an experience that, taken with the appropriate spirit and seriousness, changes the abilities and the character of the participants, since we find ourselves in a context that "forces" this change in us: being far from one's own family, and therefore from possible help, one is forced to grow by necessity. For example, since I had no intention of always eating the same things, I had to learn to always cook different things and test my culinary skills in dishes I didn't know how to prepare before, or when the shower drain was blocked, I was forced to roll up my sleeves and improvise myself as a plumber, without having the slightest experience (and I must admit with the fear of breaking something) . But anyway these and many other episodes have served me to get used to the fact that by now I have to learn to walk with my legs and to know that my parents will not be with me forever, therefore to the fact of being autonomous and to rely on my forces, asking for help as little as possible.
On the other hand, Erasmus is also a "hard" experience and if you are not motivated enough it can have opposite effects: stay 6 months away from home, not find any familiar person and build a whole new friendship network, see your own parents for 1 hour from a phone screen or for 3 days when they come to see you, it's a walk all uphill.
Despite this, the Erasmus is an adventure, in my opinion, that all young people should experience once in their life because it helps to realize that in addition to the village in which you are used to live, there is much more: there are cultures , traditions, habits, thoughts, ways of speaking, ways of doing, celebrations and above all people that is an enrichment to know, even if sometimes this involves a little more effort.
I conclude by addressing my peers (and of course all other interested people) who are reading my words right now: if you see yourself in my characteristics, if you are tired of your habits and want to get in the game as I did I, or simply want to see new places, I advise you not to hesitate to register on 9 May 2019 in the announcement to assign the 7 remaining scholarships and leave for a European country. I'm sure you won't regret it!
As always I send you a warm hug and I give you an appointment at the next article!
Francesca