Tuesday, 16 April 2019 11:27
MY ERASMUS PRO EXPERIENCE #13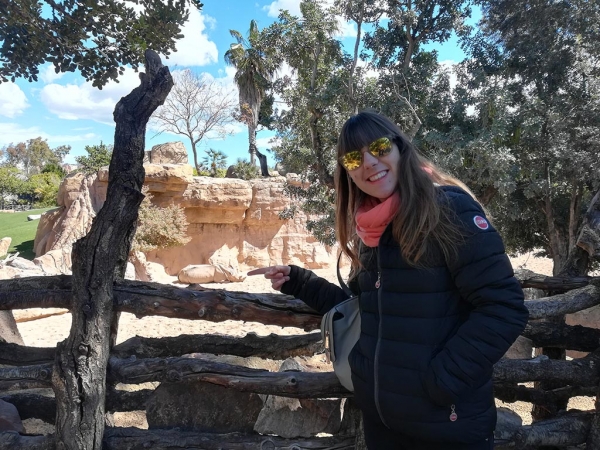 #ErasmusPro is the new type of Erasmus designed to promote long-lasting professional training experiences. Thanks to the project "WAVES - Sail towards your future" of APRO Formazione, Francesca, Carmen and Ludovica are experiencing their #ErasmusPro in Valencia for 6 months, from January to July 2019. Each week, in turn, they will tell us how they are living this experience.
Hi everyone,
On April 12th, Carmen, Ludovica and I celebrated the 3 months of Erasmus.
Now that I'm halfway there I can make a more or less complete assessment of this experience: as I said in my first article, there were many fears before I left, but the one that scared me the most was not being able to set and therefore feel bad . Actually it was exactly the opposite: from the first hour of arrival, to be away from home, to be in a completely foreign country and to hear / speak a new language, they absolutely did not demoralize or make me uncomfortable.
Maybe my next article will dedicate it to talking about this topic; in this instead I talk to you about a super trip that Carmen and I made.
Last Saturday during the usual cleaning, I found the brochure of one of the Valencian attractions that one absolutely shouldn't miss and I thought: "Why not go there? After all, you haven't been there yet and it's been almost 3 months! "So, the next day, we prepared the sandwiches and everything we needed, we set off: BIOPARC direction!
The Bioparc is a zoo in which the animals are not locked up in a cage, but are left free to circulate in enormous spaces, reproduced in a similar way to their real natural habitat. The entrance ticket is 23.80 euros, but inside there is the possibility to participate in a lot of completely free activities: just be at the meeting point at the appointed time and you can participate in that activity.
The zoo is divided into 4 areas:
-  the first area is Madagascar. There are 6 different types of lemurs, flamingos, the pit (a species of puma) and pelicans. The strangest but at the same time super funny thing was that the lemurs were right above your head: while you were walking along the path, there was the possibility (lucky or unlucky, at the discretion of the ​​person) that a lemur would fall onto your head. 
- the second is the equatorial forest, where you can meet pygmy hippos, dwarf crocodiles, sitatungs, snakes, otters, leopards, spiders, cranes, a chameleon and various types of monkeys and gorillas; seeing these last two live animals made me realize that they are our brothers much more than we believe: as mothers keep their puppies close to their breasts, as little ones play with each other, as they suspect the things they consider new, how they are fanatics and they pose when they feel they are being observed, how they scratch their stomachs, they are all behaviors that I never expected to see in animals. In particular, a gorilla sat motionless on a rock near the protective glass and looked at us humans suspiciously: he gave me the impression that he was studying us; this thing made me smile because it is the same technique that I use when I meet people that I don't like and that I consider mysterious: I start to study any of their movements and behavior. 
- the third area is the humid environment, intended for animals that live in humid locations: such as the pelican, the African spatula, the common hippopotamus, the Nile crocodile, the fish and amphibians. I was particularly struck by the latter because they were small like pebbles and had bright colors (red, blue, yellow): in an activity, the guide explained that their strong color indicates to the predator that they are poisonous amphibians, so that they do not he should eat them. 
- finally the last area is the Savannah. The animals that live this space are those that come to mind as soon as we think of Africa: snakes, elephants, dik-diks, antelopes, giraffes, sacred ibis, lion, mongoose, rhino, zebra, ostrich, mole, porcupine, aardvark, foxes, gutters, hyena and gazelle. Of all the areas this is the one I liked the most, both because there were animals that I absolutely wanted to see, and for how it was arranged: the Savannah was in a central position and was divided into green space and sandy space. 
There was no separation between animals and people, in fact, it happened to me and Carmen that, while we were taking pictures, two giraffes approached us so much that we could touch them. Obviously, however, in areas where there are animals considered dangerous, people are protected by a glass. The entire zoo can be visited in 3 hours, but if you want to do the activities, the trip will take a few hours, depending on how many activities you want to take part in and how much you have to wait for it to begin: my trip to the Bioparc lasted a full 7 hours! This is because I took part in two activities: the exhibition of some animals and the exploration. The exhibition was held in the zoo's amphitheater and consisted of a 25-minute representation of the natural behavior of some animals. The thing that enchanted me was that the animals came out from anywhere, when you least expected it. 
The exploration, instead, consisted in a path in which the guide explained in depth the characteristics of some animals: for example the crocodiles, being cold-blooded animals, need to stay in the sun for a long time and regulate their internal temperature standing with your mouth open even for 3 hours. Another thing I discovered is that hippos are actually dangerous animals! 
Initially when I asked about Bioparc, people advised against it. I would instead recommend it as a mandatory visit if you come to Valencia (depending on the number of days you stay), along with the visit of the City of Arts and Science: I think it's a different and interesting way to spend hours and more because one has the perception of being in Africa! 
One last thing I found very nice was the layout of the areas: the path wound around the area, so the animals could be seen from many sides; this is good, because often we found ourselves in front of a lot of people and, being 1 meter and a Vigorsol high, I could see nothing! :) 
Os doy quotes to the proximo articulo, y os envio un monton de besitos y abrazitos!
See you later,
Francesca