Thursday, 24 January 2019 08:33
Italian-French dinner in APRO Formazione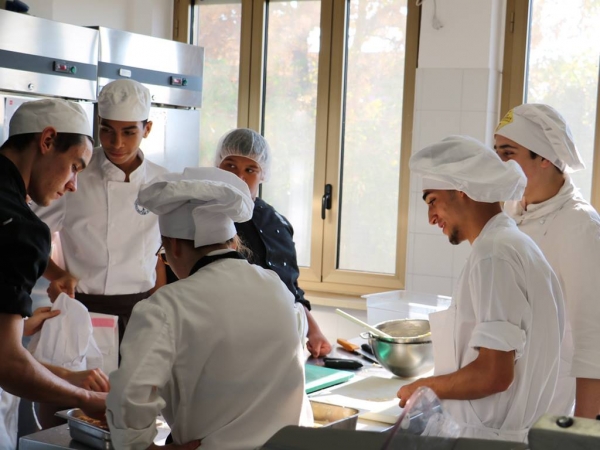 The event is part of Impact, the Interreg Alcotra project of APRO Formazione involving the hospitality schools of Alba and Cannes
"France's blue coast in Langhe" is the name of the educational dinner organized by APRO Formazione on Wednesday January 23rd, in the frame of the Impact project, funded by the Interreg Alcotra program.
The event, by invitation, was an opportunity to celebrate two of the greatest gastronomic traditions, the Italian and French ones. The dinner included: welcome finger food, pumpkin cream with porcini emulsion with hazelnuts; rack of lamb in herb crust, olive reduction and fennel confit; semifreddo with nougat, apricots and almonds with orange salad. The courses were accompanied by Crémant de Bourgogne, Veuve Ambal, Blanc de Blanc, AOC Cassis blanc, Châteauneuf-du-pape and Muscat de Beaumes-de-Venise.
However, the real protagonists of the evening were not the excellent dishes and wines served, but the students of the two schools of Alba and Cannes who prepared each course under the supervision of the French chefs Silla Lucien and Eric Betaille.
APRO Formazione often organizes didactic dinners, but these usually host well-known chefs of the territory and take place on Tuesdays. This time, the exceptionality of having French chefs in Alba was also highlighted by the choice of another day of the week in which organizing the event.
The educational dinner is only one of the many activities in which the learners will be involved during this innovative training course, aimed at preparing future chefs able to work both in Italy and in France. In the next few months, the students of the two hospitality schools will be involved in competitions and events both in Alba and in Cannes, including Vinum at the end of April.
More information on the project is available on official websites and on social networks:
IMPACT project: https://impactalbacannes.eu/
Alba Accademia Alberghiera: http://www.albaaccademia.it
Twinning brochure: http://bit.ly/ALCOTRAdepliant
Hashtag to follow the entire project: #Impact_AlbaCannes
ALCOTRA program page: http://bit.ly/ALCOTRAsito
Facebook: @albaaccademia @facultedesmetiersdecannes
Instagram: @aproformazione - Twitter: @Apro_Formazione