Wednesday, 29 November 2017 07:09
APRO in Brussels for the European Vocational Training Week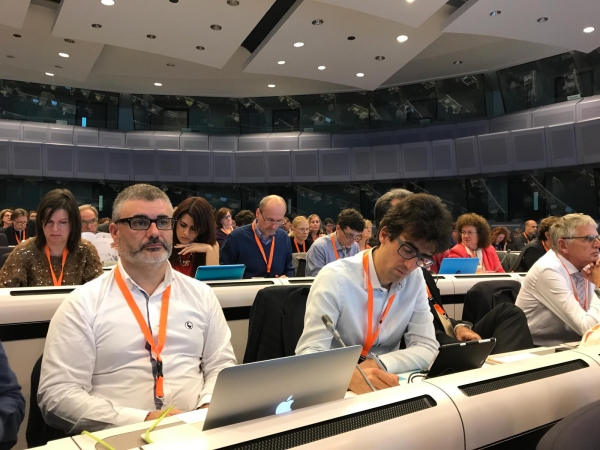 The European Week of Vocational Training was held in Brussels from 20 to 24 November. The initiative, in its second edition, was strongly desired by the European Commission to turn the spotlight on a type of training sometimes too easily dismissed as a second choice compared to high schools.
The event was an opportunity to demonstrate once again how these prejudices are unfounded and there have been many examples of excellence in this sector that could be known in Brussels.
Among the reasons that led the Commission to create this initiative is certainly the central role of vocational training in the fight against high unemployment rates, especially in the youth field; Vocational Training has also proved to be often the most ready to respond to the numerous cases of skill mismatch complained of by the business world.
The skill mismatch is the gap between the skills possessed by aspiring workers, who have often finished their education, and those sought instead in the labor market; in a context where the number of people without work is worrying in many Member States, it is not acceptable that for some jobs it is not possible to find adequately trained staff.
It is therefore no coincidence that among the events organized in Brussels last week there was also the first European Business-Education Summit, an important meeting and confrontation between policy makers, the world of vocational training and companies.
Even if the European Vocational Training Week is over, in fact, until 31 December there will be initiatives across Europe to promote Vocational Training; so far there are over one thousand registered events.
APRO Formazione also joined the initiative, organizing 3 events: "Be A Fashion Maker", a 3-day course to train entrepreneurs in the textile sector to entrepreneurs; the "VETMobility is ..." competition, open to participants in internships abroad organized by APRO and funded by the Erasmus + program; the didactic Dinner with the chef Fabio Sgrò, pupil of Gualtiero Marchesi, who for one evening cooked alongside the students of the final year of the Cook Academy.
For more information on the initiative, visit the official website: https://ec.europa.eu/social/vocational-skills-week
Or watch the video made for the "VETMobility is ..." competition: https://quik.gopro.com/v/4CdsKgJLPU