Monday, 15 May 2017 13:41
The 2017 Europe Day at the H-Zone Youth Center was a success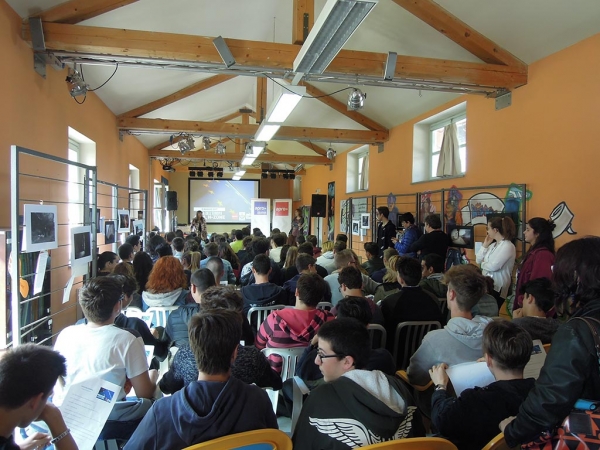 Tuesday May 9th the Europe Day organized by APRO International, the APRO Formazione sector dedicated to European projects, with the Department of Youth Policies of the Municipality of Alba, the ORSo Social Cooperative and the Sinergie Sociali Consortium .
The event, which took place at the H-Zone Youth Center, involved 94 students attending APRO Formazione, IIS Luigi Einaudi, the Piera Cillario Ferrero Institute and the Cocito scientific lyceum.
The Europe Day, celebrated all over Europe, was an occasion in Alba to promote among young people the many opportunities to train, carry out internships or volunteer abroad and to push them to question the importance of making an experience in another country.
The morning was articulated in three moments. At first it saws on stage Annamaria Monticone by APRO International, Alice Riccardi of the Informagiovani of Alba, Giulia Garabello of Intercultura and Mario Bella of EURES Cuneo. In addition to presenting their own realities, each of them insisted on the importance of knowing new cultures through the journey. Accompanying their interventions, also the testimonies of Lucia and Ergim, students of APRO Formazione who have just returned from a month of internships respectively in Barcelona and Wroclaw, funded by the Erasmus + program, and José Pablo, a Mexican boy from September to Alba thanks to an Interculture exchange. The latter reminded his peers of the importance of traveling also to be ambassadors of his country.
Divided into groups with the name of the founding States of Europe, the students then participated in educational activities and games designed to reflect on issues such as prejudice and cultural diversity and to introduce the main existing opportunities to support volunteering, study and work 'abroad.
The activity that concluded the event was the European Opportunities Fair, a set of stands at which to find useful materials and ask questions on Erasmus +, European Voluntary Service, European Solidarity Service, Intercultural exchanges, peer work.
The show was accompanied by music and the buffet of European breath, prepared by the students of the APRO Cook Academy, and from Pitta-Europa, the possibility for the girls present to have the enamel applied by the students of APRO Beauty & Wellness, having reproduced on their nails the flags of the States that first believed in the project of a united Europe.
"An interesting initiative, well done and structured - says the councilor for youth policies of Alba City Council Anna Chiara Cavallotto - certainly a format to be repeated and perhaps expanded. It is very nice to think that young people have celebrated Europe, drawing opportunities from it. I thank all those who have given their contribution to the organization: Apro Formazione, Informagiovani, EURES Cuneo and Intercultura ".
 "We are very satisfied with the initiative and the great interest shown by the young people - says Nicola Alimenti, head of the APRO International sector - If we really want a united Europe, we need to start with them. Our wish is therefore to be able to propose the event again next year, involving more and more students ".