Monday, 24 September 2018 14:02
Discover E-TRAINERS in Como or online!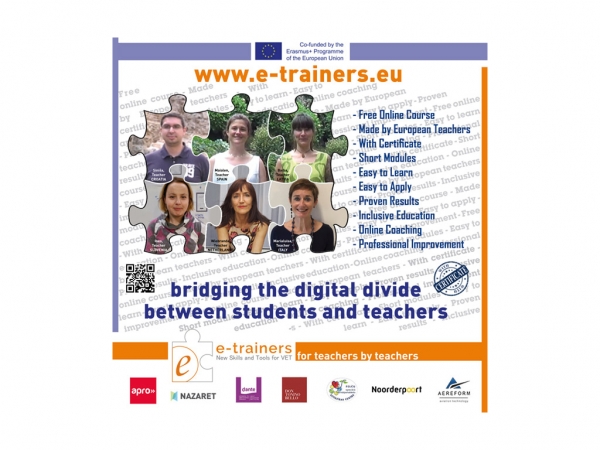 E-TRAINERS is a learning platform made by teachers for teachers, developed in the frame of the Erasmus+ project lead by APRO Formazione together with partners from Italy, Latvia, Holland, Spain, Croatia and Slovenia. Ready to test it online or discover more at EfVET conference in Como?
The E-TRAINERS learning platform is finally available free of charge in English. By the end of the year, it will be available in other 8 languages (Italian, Spanish, French, German, Dutch, Latvian, Slovenian, Croatian).  Are you a teacher? Become a digital competent teacher easily!
The E-TRAINERS courses, created by European teachers, are composed of short modules to allow teachers to follow them during the working day. At the end of the courses, a certificate is obtained. All courses use proven methods and tools, and facilitate inclusive teaching.
An online support service helps teachers to solve any difficulties to allow an easy application of the learnt teaching methods and tools in the classes. Some materials can also be used by counselors and operators of job centers.
The courses prepare teachers and trainers in the simple use of various digital tools in order to inspire and promote the creation of digital teaching content, the development of transversal skills of young people and the critical and constructive use of the Internet for educational purposes.
By choosing E-TRAINERS you will discover a complete professional upskilling program that will help you face all kinds of digital challenges, BUT above all you will become more confident in using digital tools for your lessons.
Are you an EDU VET institution / provider? Import the course free of charge in your Moodle platform for the upskilling of your staff!
Discover more by watching the teaser made by the teachers who created it: https://youtu.be/-ynxcSPfCBs
Discover even more by registering to the E-TRAINERS roundtable in the next EfVET conference in Como, by visiting the project website or by contacting the project coordinator at europa@aproformazione.it