Euroskills - Internships abroad 3 - 7 months - 2021/2022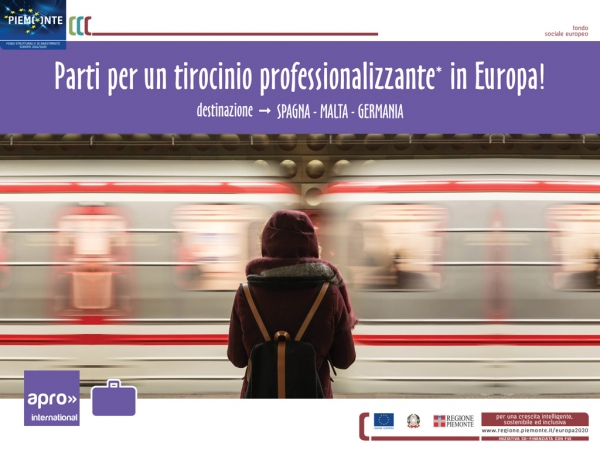 The "Direttiva di Mobilità Transnazionale 2019 – 2021" approved by the Piedmont Regional Council allows, through the "Progetto di Mobilità Transnazionale" (PMT), to take part in a professional internship in Europe.
THE CALL FOR APPLICATION IS OPEN UNTIL 05/11/2021, 23.59!
Opportunities for Unemployed, Unemployed and NEETs
Thanks to the PMT (Transnational Mobility Projects), 24 scholarships are available for internships abroad at no cost to the families. The scholarships are:
8 scholarships in Sliema (Malta) for 3 months in the tourism / hotel sector
8 scholarships in Valencia (Spain) for 7 months in the tourism / hotel sector
8 scholarships in Leipzig (Germany) for 7 months in the childcare / social sector
Successful applicants will be admitted to the selection process.
If two or more applicants achieve the same score, preference will be given to applicants with fewer opportunities and living in disadvantaged contexts. See the call for more specific information.
Requirements:
Age between 18 and 35;
Be resident in the Piedmont Region
To be unemployed, unoccupied or NEET until the end of the project;
Do not receive other funding from the European Social Fund during the training period;
Do not have already benefit in the past from contributions under the TRANSNATIONAL MOBILITY DIRECTIVE of the PIEDMONT REGION; preference will be given to participants who have never benefited from internship grants financed by EU funds;
B1 level knowledge of English or the language of the country of destination;
Place of the internships: Spain (Valencia), Germany (Leipzig), Malta (Sliema).
Duration of the period abroad: February-September 2022 for the 7-month mobility and February-May 2022 for the 3-month mobility.
Certifications awarded on completion
European Language Passport (ELP).
Certificate of Attendance with Profits
Europass "Curriculum Vitae"
Europass Mobility Certificate
ECVET competence evaluation grids.
Any letters of reference and/or certificates issued by the foreign companies
Total cost of the course
Free of charge (the activity is funded by the Regional Transnational Mobility Directive 2019-2021).
Project programme:
Intensive course of the language of the destination country: 40 hours
Unpaid in-company internship: 30/40 hours per week at facilities, companies or entities operating in the macro-sector of the project identified directly by the intermediary entity partner of the project.
Modalities of participation:
Those interested in the initiative participate in a call for selection promoted by Apro Formazione.
Click here to download the call for applications
Click here to download the Self-declaration on application requirements (to be scanned and attached to the application)
After having carefully read the call, if you want to participate, click here to send us your application. On the application portal please remember to select for which internship you want to apply: 7 months (Leipzig or Valencia) or 3 months (Malta).